Summer Sipping Whites
What can we say about this? It's exactly what it sounds like – a collection of brilliant white just perfect for sipping on sunny summer days or balmy nights.
We tried to throw in a little something for everyone and from everywhere. The Tomfoolery classic Aussie Riesling will satiate all you Riesling freaks out there while those wanting something a little bigger and bolder are gonna love the Santenay from our man Antoine Olivier. Looking for something in between then knock the top off the Mon Redon Blanc or try the Sensale Grillo from the warm and sunny southern coasts of Italy.
Last but not least the Charquino Albarino is a staff favourite here at HQ. Think of a mix between Pinot Gris, Sauvignon Blanc and Riesling and you are heading in the right direction. if you've never tried Spanish whites this is the perfect place to start.
Enjoy!
Medium Pack (6 Bottles) - Summer Sipping Whites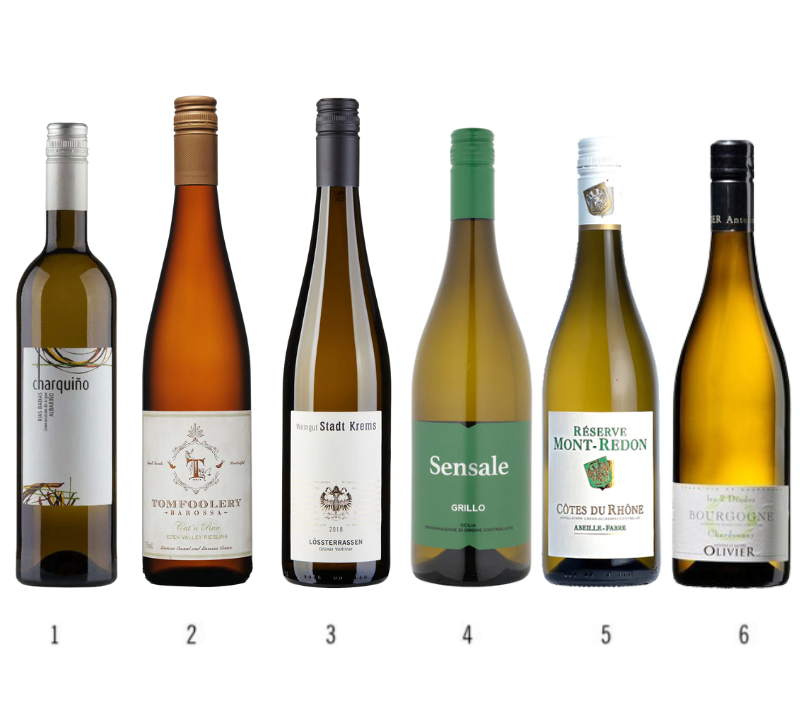 1. Eidosella 'Charquino' Albarino 2021

Riais Baixas, Spain

Prickly pear, small green apples, preserved lemon and a nice sense of tang, it is 100% varietal in a very stylish, smooth mid-weight register. With juicy acidity and a nice little nutty snap to close, the fruit tannins are perfectly handled (so often the Achilles heel of this tricky variety). Unbelievably good value - you just shouldn't be able to get it so cheap! Stainless steel handling, with 50% of the blend aged on lees in the tank.

2. Tomfoolery Cut n' run Riesling 2021

Classic Clare Riesling

A terrific follow-up to the excellent 2020, this has piercingly fresh aromas of lemon and lime. Very floral, with some white peach, too. There's such finesse and polished texture on the palate with grapefruit and lemon flavors wrapped in long and tight. Brilliant. 96 points JamesSuckling.com

3. Stadt Krems Lossterrassen Gruner Veltliner 2021

Perfect summer white from Austria

A very attractive, fruit-driven gruner veltliner, rippling with white-apple, white-peach and pepper aromas. Juicy and polished with lively acidity that's already beautifully integrated. Good length. Drink now. Screw cap. JAMES SUCKLING

Fritz Miesbauer is now at the helm and previously built his stellar reputation heading up Domäne Wachau. Since 2003, he and his progressive team have been taking Weingut Stadt Krems to a new level.
4. Sensale Grillo 2020

Sizzling Sicilian White

If you don't know it Grillo is a native to the island of Sicily and the Sensale bottling from Cantine Europa has to be one of the best value options around. The wine comes from the western part of the island and is made without any use of oak and is deliberately styled for early and easy drinking.

Notes of citrus, pear, and stone fruits open with a bit of sea-spray action that lends a slightly salty twang to both the nose and pallet. There is definitely a bit of flesh and punchy fruit with citrus to the fore followed by a little stone fruit and minerally hit. We love the way the fruit and savoury clip play off each other in the mouth and just a little hint of bitterness makes this the perfect pairing to Mediterranean seafood. Mwah!

5. Mont Redon Cotes du Rhone Blanc 2020

Lush and Plush from the Rhone

Grenache blanc 70%, Clairette 20%, Viognier 10%

The 2020 Vintage is a 70/20/10 mix of Grenache Blanc, Clairette and Viognier. It has an alluring but not over powering perfume coming from the viognier component. In the mouth is quite textural, with a nice balance of yellow fruits and acidity. Also drinks extremely well over a few days building a little more body and character if you're that way inclined." DECANTER, Top Rhone wines under $25 "

6. Antoine Olivier Bourgogne Blanc Les Deux Dindes 2019

Village Burgundy at its Best!

Wide aromatics – an even nicer freshness – a vibration of energy here. Nice lime citrus in the mix of flavours here. This is 80% Mâcon and it has a juicy joie-de-vivre… lovely wine. BILL NANSON, Burgundy Report

From superstar and all-around legend Antoine Olivier. He has been painstakingly finding only the best Chardonnay vineyards in Santenay to add to his portfolio of already great sites. It doesn't get much better than this and given the price of Burgundy offers incredible value and outstanding quality.
Show all profiles
6 Cracking bottles for
$

177
inc GST