Cassoulet
Delicious as it is, the idea of spending two days cooking cassoulet won't get too many of us excited. The good news, though…
…is that we've had at least half a dozen attempts at this dish over the past few months, and while traditionalists won't like that fact that we've settled on store-bought confit duck and tinned cannellini beans, we've managed to get the total cooking time down to just over three hours. Most importantly, the end result is one of the most delicious things we've eaten this year – perhaps the perfect autumn/winter lunch for four hungry people. And it's even better with a bottle or two of Dominique Piron's mouth-watering 2014 Beaujolais-Villages.
Bon appétit!
INGREDIENTS
– Serves 4 –
6 thyme sprigs
4 fresh bay leaves
2 sprigs sage
2 tbsp. extra-virgin olive oil
1 carrot, finely diced
1 brown onion, finely diced
1 celery stalk, finely diced
5 garlic cloves, crushed
1 tbsp. tomato paste
1 cup dry white wine
1 x 400 g piece pork neck
1 smoked ham hock
8 small pork sausages
sea salt
2 confit duck legs
400 g tin cannellini beans, drained and rinsed
2 handfuls of fresh breadcrumbs
½ bunch of flat-leaf parsley, leaves picked and finely chopped
zest of ½ lemon
To serve
green salad
baguette
Dijon mustard
Method
Pour yourself a glass of 2014 Dominique Piron Beaujolais-Villages.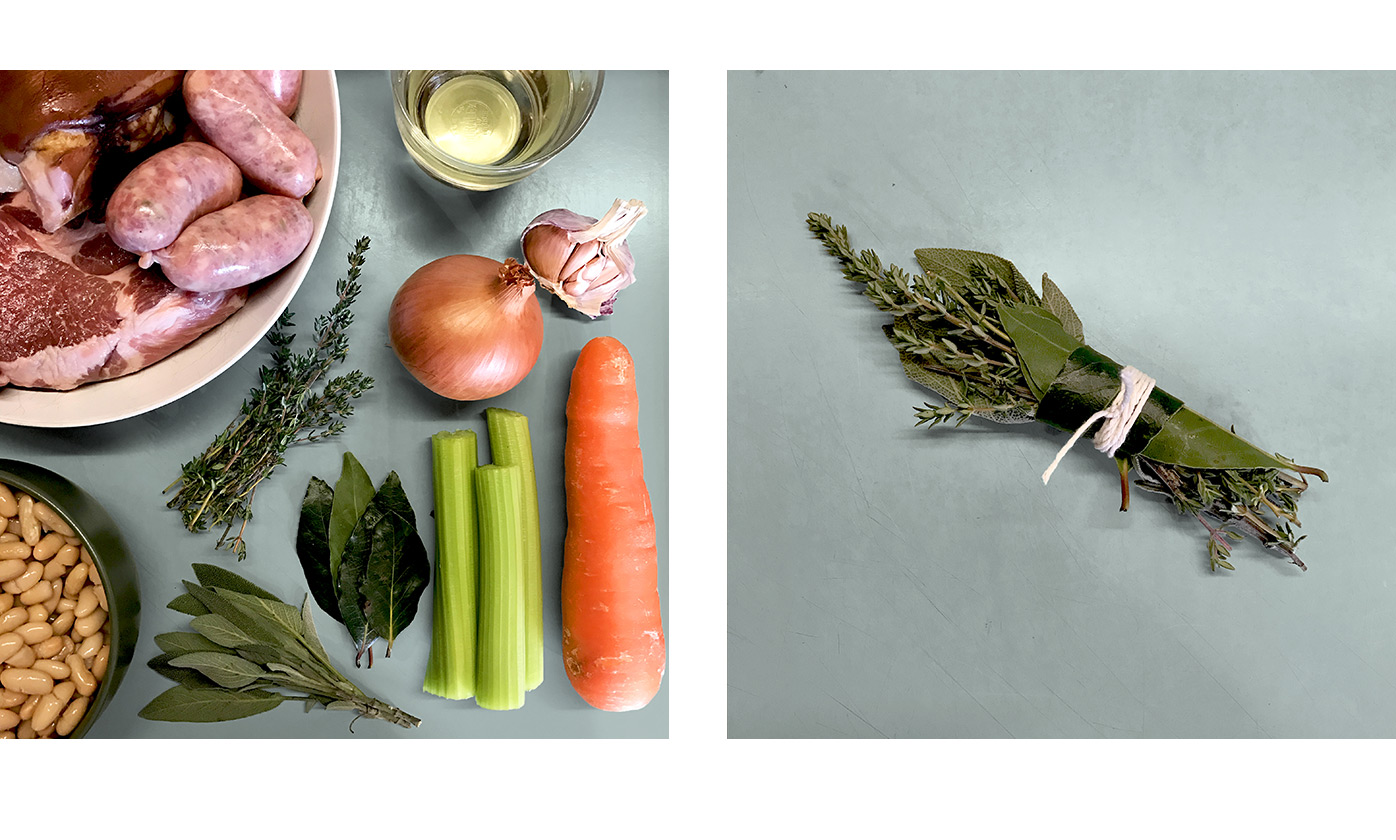 Preheat the oven to 160°C fan-forced.
Tie the thyme, bay and sage together with kitchen twine to make a bouquet garni.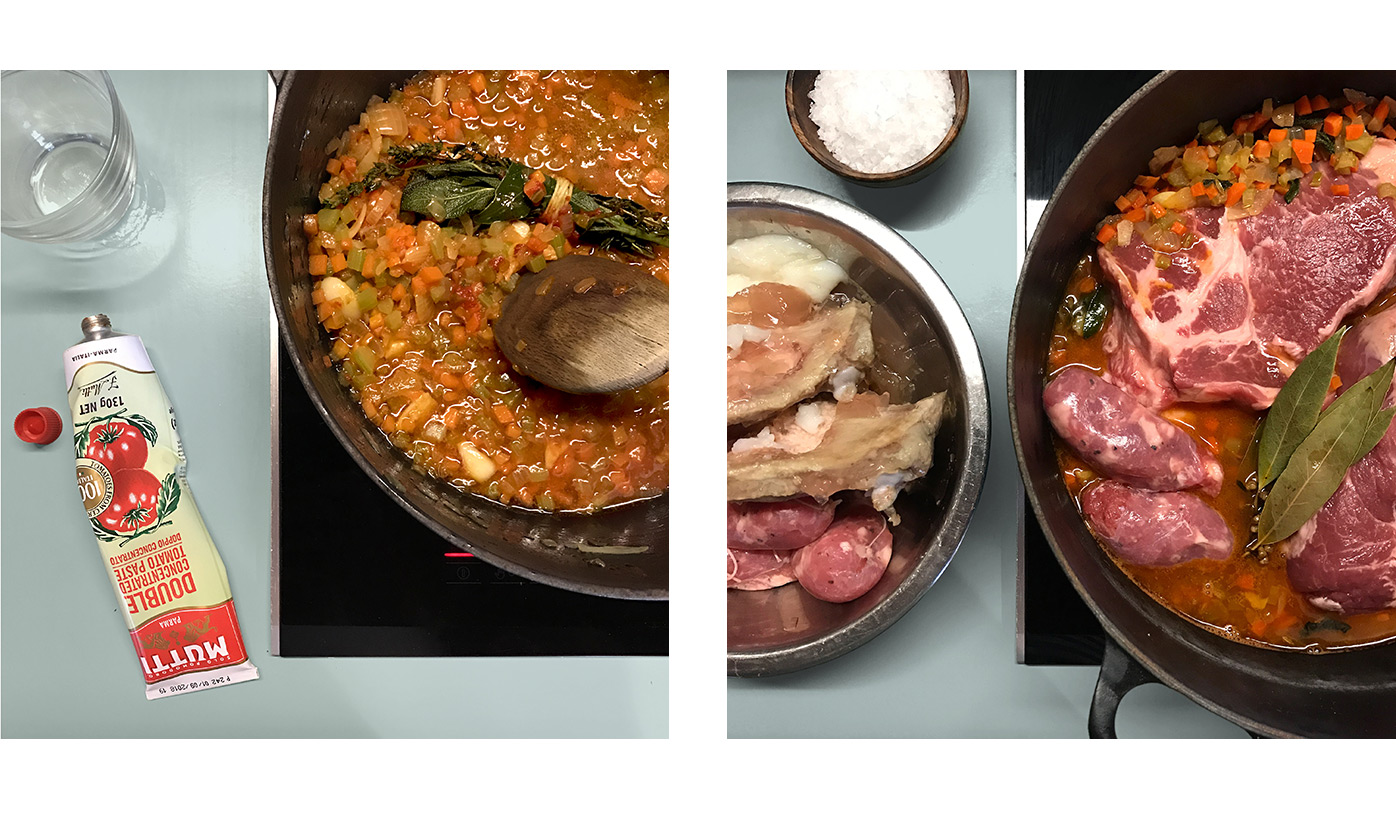 Heat the oil in a heavy casserole pot over medium heat. Add the carrot, onion, celery, garlic and bouquet garni and fry until softened. Add the tomato paste and wine, stir well and cook for 2 minutes. Add the pork neck, hock, sausages and 2 cups of water, season then cover with a tight-fitting lid and place on the bottom shelf of the oven for 2 hours.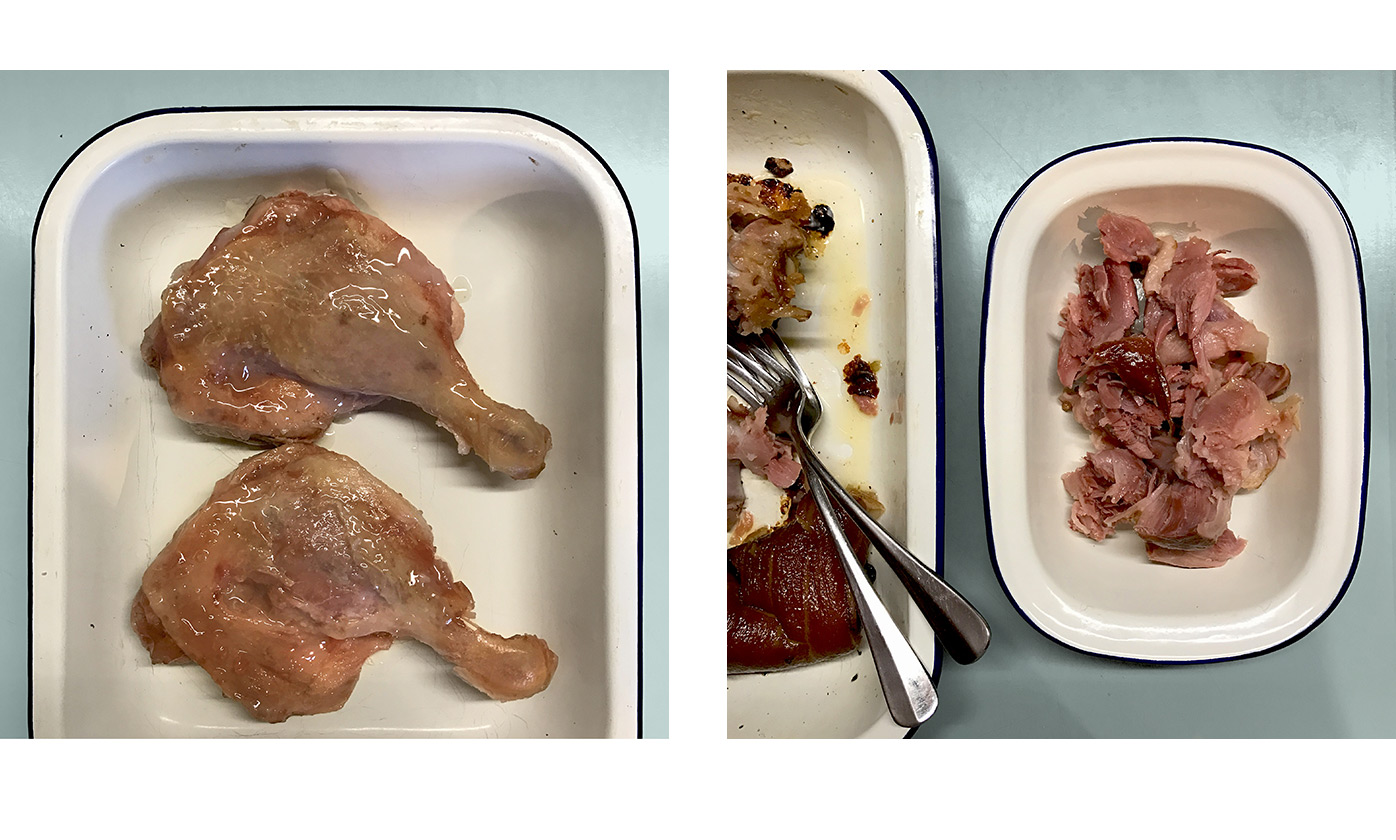 Add the duck legs to a shallow ovenproof dish and roast on the top shelf of the oven until golden, about 30 minutes. Cut through the joint on each leg to separate the drumstick from the thigh, then set aside.
After 2 hours, take the pot from the oven, then remove the hock and shred the meat.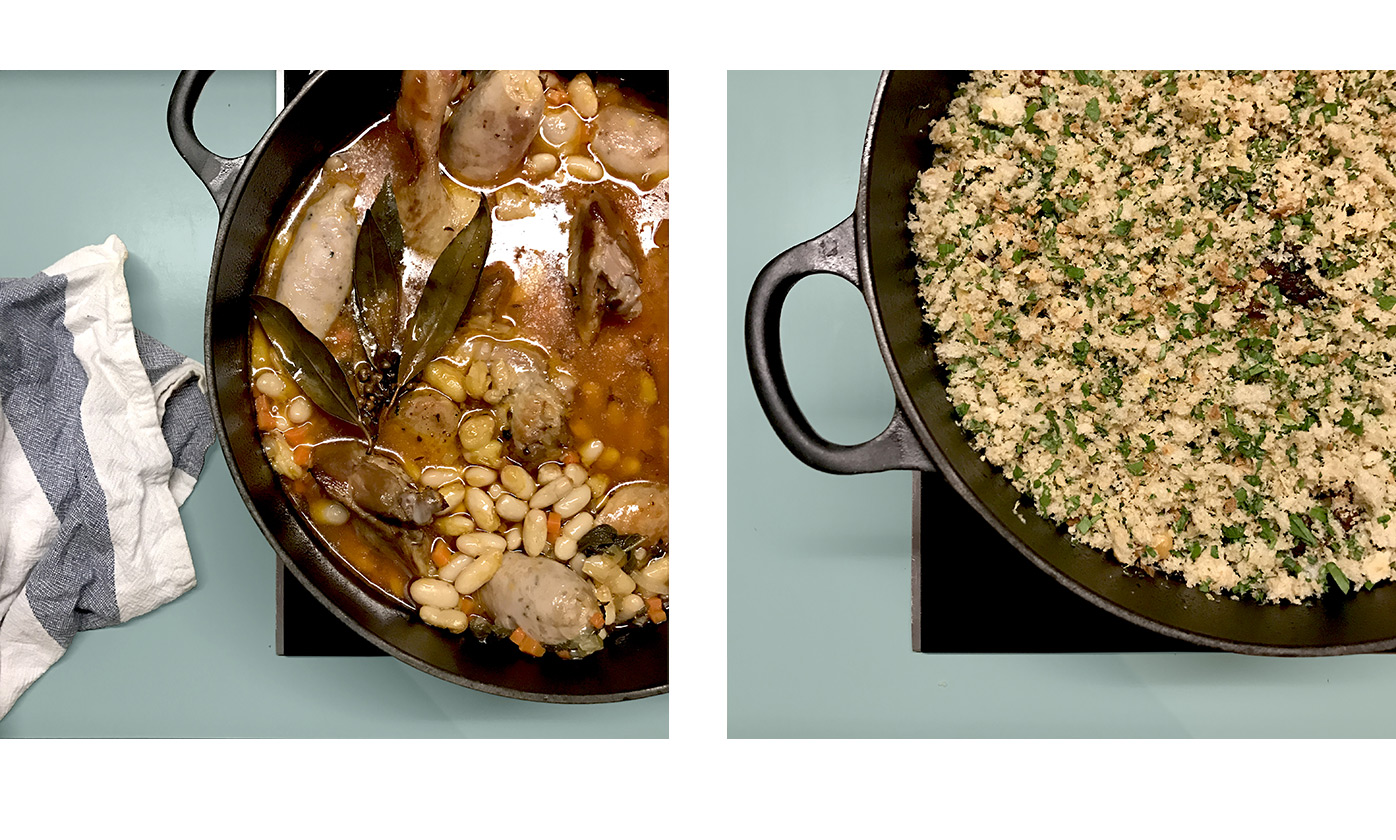 Add the hock meat back to the pot with the beans and duck, then return to the oven and cook for 1 hour, uncovered.
Combine the breadcrumbs, parsley and lemon zest in a bowl. Then, with 10 minutes cooking time remaining, spread the mix over the top of the cassoulet…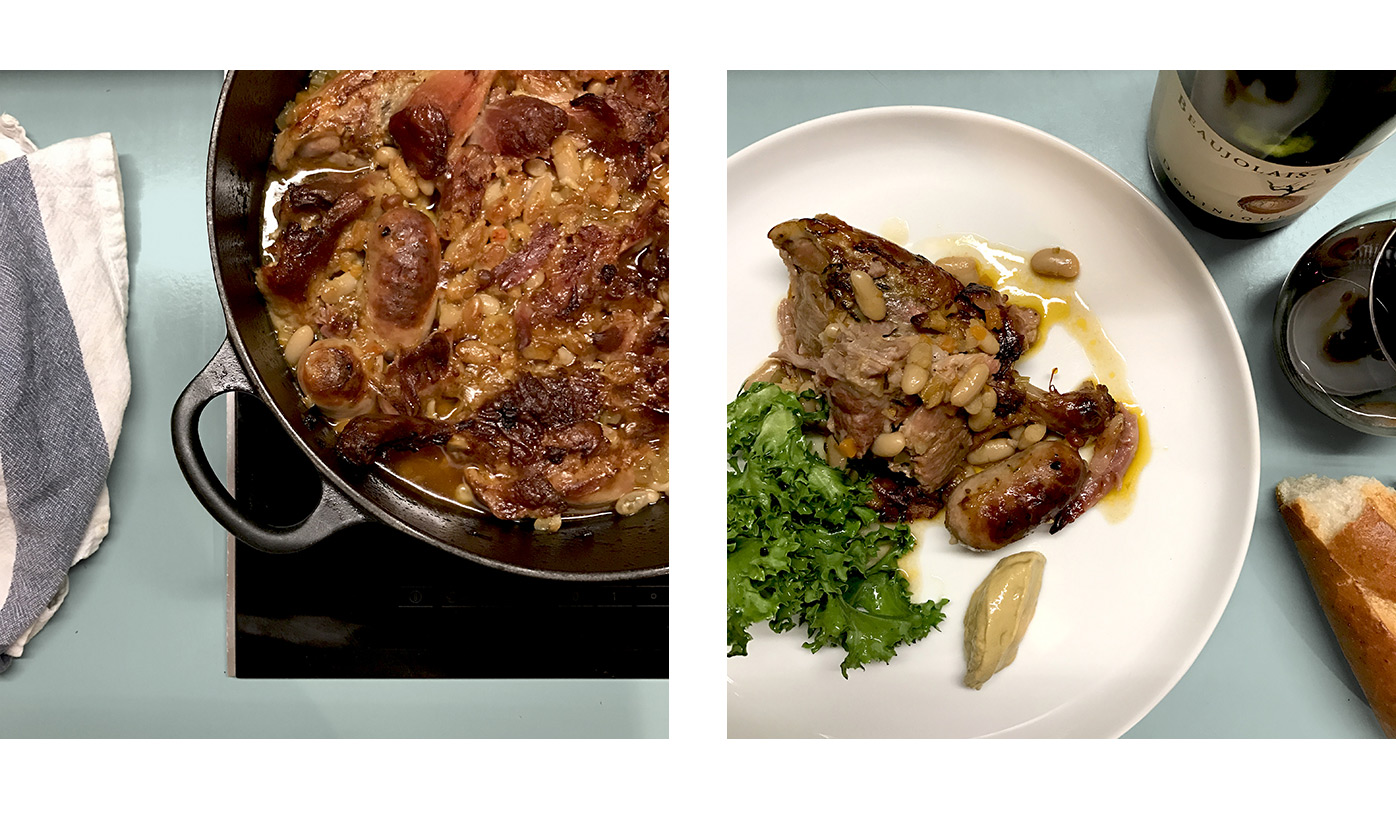 …and cook until golden.
Serve the cassoulet with a simple green salad, crusty baguette and plenty of Dijon mustard.

• • •
The 2015 Poitevin is a classic match from Bordeaux and available in our Big reds are Go pack.