A Tuscan Treat
There would be few that would argue that Italy's beating heart is Tuscany – the rolling hills, the breath-taking cities, incredible art and history and not least of course, the wines. In the last 20 years the region and its wines have had a renaissance of sorts and many, like us, are happily re-discovering and exploring the diversity of this majestic region.
The Super-Tuscan movement put a spoltlight on Tuscany which saw the likes of international varieties such as cabernet and merlot driving new interest.
Sangiovese still remains king here and Chianti has never been better with the thin and overproduced wines of old, making way for the modern, pure and vibrant examples we see now.
There has never been a better time to explore Tuscany's rolling hills and verdant coast with an array of incredibly diverse wines.
This pack is a snapshot of styles from Super-Tuscan blends, classics from the Chianti hills as well some beautifully enigmatic wines from the warm coast.
This is a wonderfully Tuscan treat.
Medium Pack (6 Bottles) - A Tuscan Treat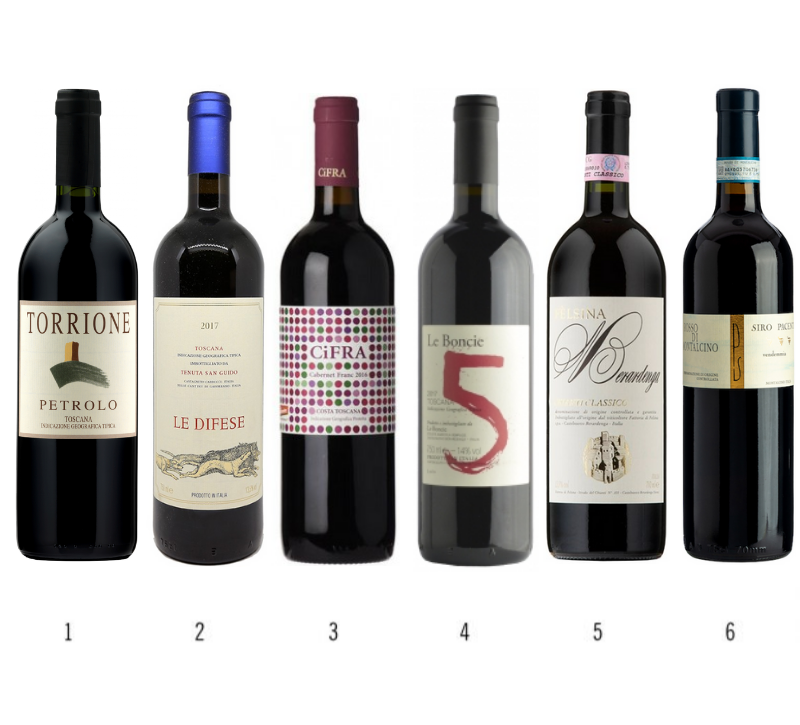 1. Petrolo Torrione 2018

Modern Sangiovese blend

Petrolo is a cult producer in Tuscany and abroad and it has been some process to get some for Australia. The owner Dr Luca Sanjust is a great thinker about wine and his property is one of the most remarkable in Tuscany; featuring one of the only remaining Roman towers (the Galatrona) in Tuscany. His grandfather bought the 950-acre property by selling a flat in Rome after the war!

The winemaker is Carlo Ferrini; one of the true greats of Tuscan winemaking and makes wines which exhibit plush styling as well as a dark fruited and a balanced persona with a real sensual core. TDL

Petrolo's 2018 Torrione is fabulous. Deep, inky and generous, the 2018 packs a serious punch. Ripe dark red fruit, chocolate, spice, leather and tobacco are all kicked up a few notches, with sweet floral top notes that add aromatic lift. The 2018 is an especially boisterous Torrione, with all the elements in the right place. In a word: delicious. ANTONIO GALLONI, Vinous

2. Tenuta San Guido le Difese 2017

Cabernet Sangiovese blend

The 2017 Le Difese is plump, juicy and inviting, with lovely textural richness and volume. Sweet red cherry, spice, leather, tobacco and menthol are amped up by the natural richness and radiance of the year. This is an especially supple, lush Difese. I would prefer to drink it over the next handful of years. ANTONIO GALLONI, Vinous.com

3. Duemani Cifra 2018

100% Cabernet Franc

Being one of Italy's foremost consultant oenologists comes with a certain expectation that you will produce something fairly special from your own vines. The surprise was palpable then when owner Luca D'Attoma chose Cabernet Franc to be the mainstay variety supported by Merlot and Syrah.

The wines however are quite superb and while the Duemani (100% Cab Franc) and Suisassi (100% Syrah) are the super-stars of the range, the cement-tank fermented and aged Altrovino (cab franc and merlot) is quite special also; bright, pure dark berry fruit is complexed by some drying minerality and a real energetic personality. The most recent addition to the range is the cement-fermented and aged 100% cabernet franc, Cifra. The wine was initially a response by d'Attoma to produce a cheaper wine for restaurants to pour however the result is much more than a mere bistro quaffer. TDL

The 2018 Cifra is a total knockout. Fresh, vibrant and full of aromatic intensity, the 2018 boasts superb flavor intensity and exceptional balance. Inky red and purplish berry fruit, lavender, spice and dried flowers all race out of the glass in a boisterous, generous wine that hits all the right notes. ANTONIO GALLONI, Vinous
4. Podere le Boncie "5" 2018

Sangiovese & Conaiolo

This is the little brother/sister of "Le Trame" from Podere Le Boncie. The wine was originally sold only through the winery only and was essentially created from fruit of vines younger and/or less well-positioned.

The original composition was sangiovese, conaiolo, mammalo, colorino and fogliatonda butnow consists of mainly Snagiovese and two rows of conaiolo. Now it is mainly a blend of sangiovese with a touch of conaiolo with grapes sourced from outside out the Chianti Classico zone.

This comes off with a pretty and nuanced nose of red fruits, red cherry and a subtle minerally spice that accents the clean fruit profile. Mid to light in style with nice focus and a little bump of plush fruit through the middle palate that carries the wine along nicely. The 2018 is a touch plusher then usual which suits the style well. Unmistakably Tuscan, unmistakably sangiovese. Great stuff.

5. Felsina Chianti Classico 2018

Stunning Chianti Classico

With a staggering 18+ tre biccherie awards to their name, Fattoria di Felsina is not only one of the greatest producers of Chianti Classico in the zone, but can also lay claim to being one of the greatest estates in Italy.

Located on the southern boundary of the Chianti Classico zone at Beradegna, Felsina is run by the thoughtful, Giuseppe Mazzocolin, and together with consultant oenologist Franco Bernabei, he has guided the estate masterfully through the massive changes that have taken place in Tuscany in the last 30 years, always mindful of only making changes he thought would further the quality of the wines without obliterating the regional nuance. TDL

The 2018 Chianti Classico Berardenga is endowed with so much class. In 2018, the Classico is a bit more restrained than it can be. That mid-weight sense of structure, though, gives the wine quite a bit of early appeal. Even so, I would cellar the 2018 for a few years, as all the elements haven't fully come together just yet. Dark cherry, game, smoke, licorice and earthy notes are a reminder we are in Castelnuovo Berardenga, even if the 2018 has less weight and overt power than Fèlsina fans are used to seeing. ANTONIO GALLONI, Vinous.com

6. Siro Pacenti Rosso di Montalcino 2016

100% Sangiovese from Montalcino

The estate is in fact made up of two separate estates - one to the north of Montalcino at Pelagrilli and planted by Giancarlo's grandfather in 1970 and the other an earlier 1960s planting in the south of Montalcino at Piancornello. Despite this relatively long history in the area (compared to many newcomers), it was not until Giancarlo arrived on the scene in the 1980s that the wines started to be made with a clear quality vision in mind. Almost immediately they attracted the attention of the world's wine press (something that has never waned) as well as that of savvy collectors. TDL

The 2016 Rosso di Montalcino is fresh, vibrant and explosive, with tremendous energy from start to finish. Macerated dark cherry, mocha, tobacco, mint, dried flowers, licorice and spice all run through this rich, sumptuous Rosso. The darker side of Sangiovese comes through in a virile, imposing Rosso endowed with tons of structure and sheer depth. Drink it over the next handful of years. (93) ANTONIO GALLONI, www.vinousmedia.com
Show all profiles
6 Cracking bottles for
$

370
inc GST