Baja-style fish tacos
I could happily live off fish tacos. I'm actually pretty fond of anything you can wrap and eat straight from your hand – san choi bao, souvlaki, Peking duck – but it's that magical combination of soft flour tortillas, crispy beer-battered fish, guacamole, cabbage, mint and lime that I could happily eat for the rest of my days.
And while wine probably isn't the first drink that springs to mind when it comes to fish tacos, it's the mixture of textures, the punchy green herbs and the zing of lime that all cry out for a vibrant dry white.
INGREDIENTS
– Serves 4 –
600 g fillet firm white fish (I used flake)
neutral oil, for deep-frying
8 flour tortillas
Kewpie mayonnaise, to serve
lime wedges, to serve
Guacamole
2 avocados, flesh removed
1 bunch of coriander, leaves picked and finely chopped
juice of ½ lime
a pinch of sea salt
Cabbage slaw
¼ red cabbage
1 sprig of mint, leaves picked and finely shredded
juice of ½ lime
Beer batter
1 cup plain flour
2 tbsp. cornflour
2 tsp. sea salt
1 Corona (or 355 ml of any beer)
METHOD
Pour yourself a glass of vibrant dry white – we drank the 2016 Arfion Pinot Grigio.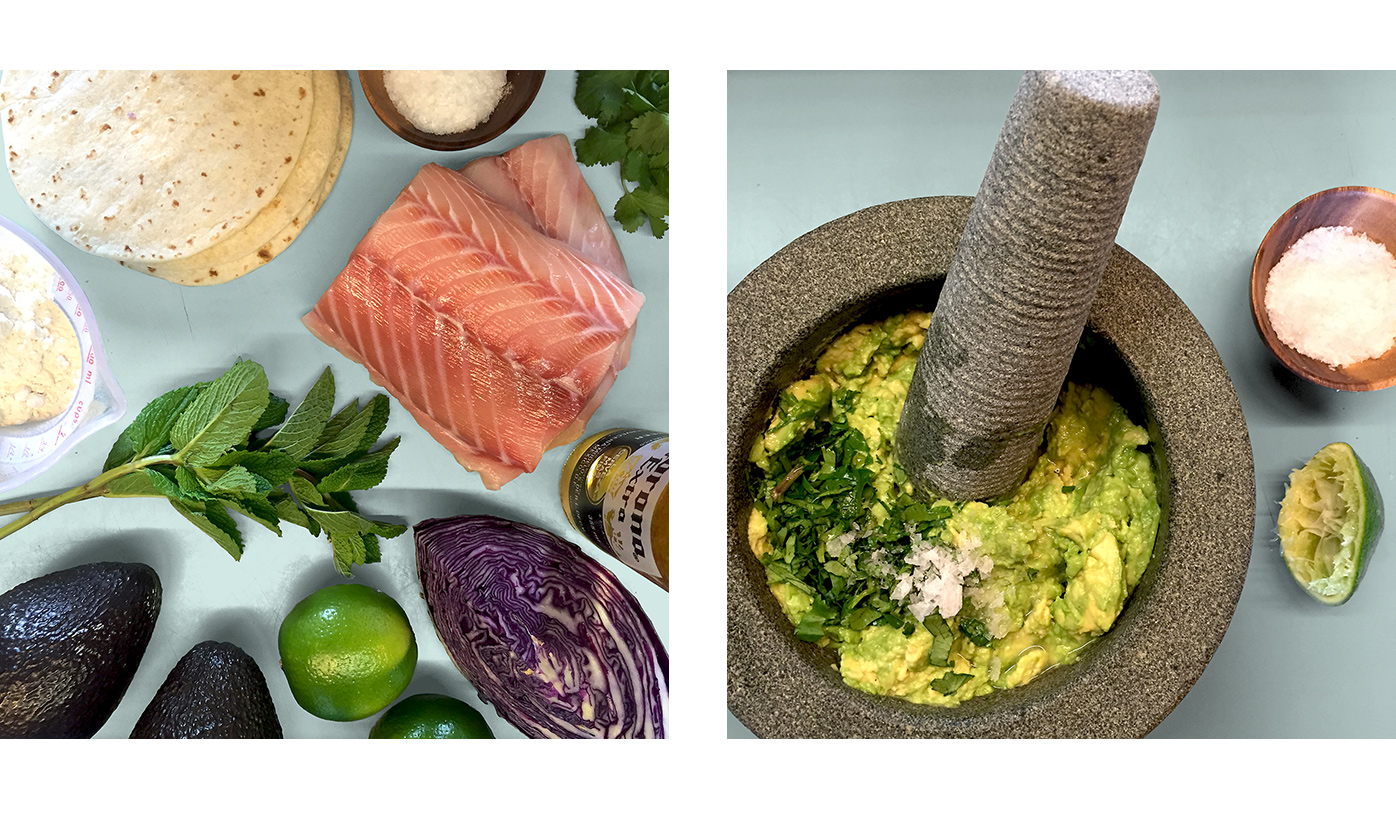 To make the guacamole, using a mortar and pestle, pound all the ingredients until the avocado is mashed and everything is well combined. Transfer the guacamole to a bowl and refrigerate until required.
To make the cabbage slaw, finely shred the cabbage with a sharp knife or mandolin (watch your fingers!). Add to a large bowl with the mint and lime juice and toss well.
Preheat the oven to 130°C.
To make the beer batter, combine the flour, cornflour and salt in a large bowl. Slowly whisk in the beer until you have a smooth, lump-free batter, the consistency of thick cream.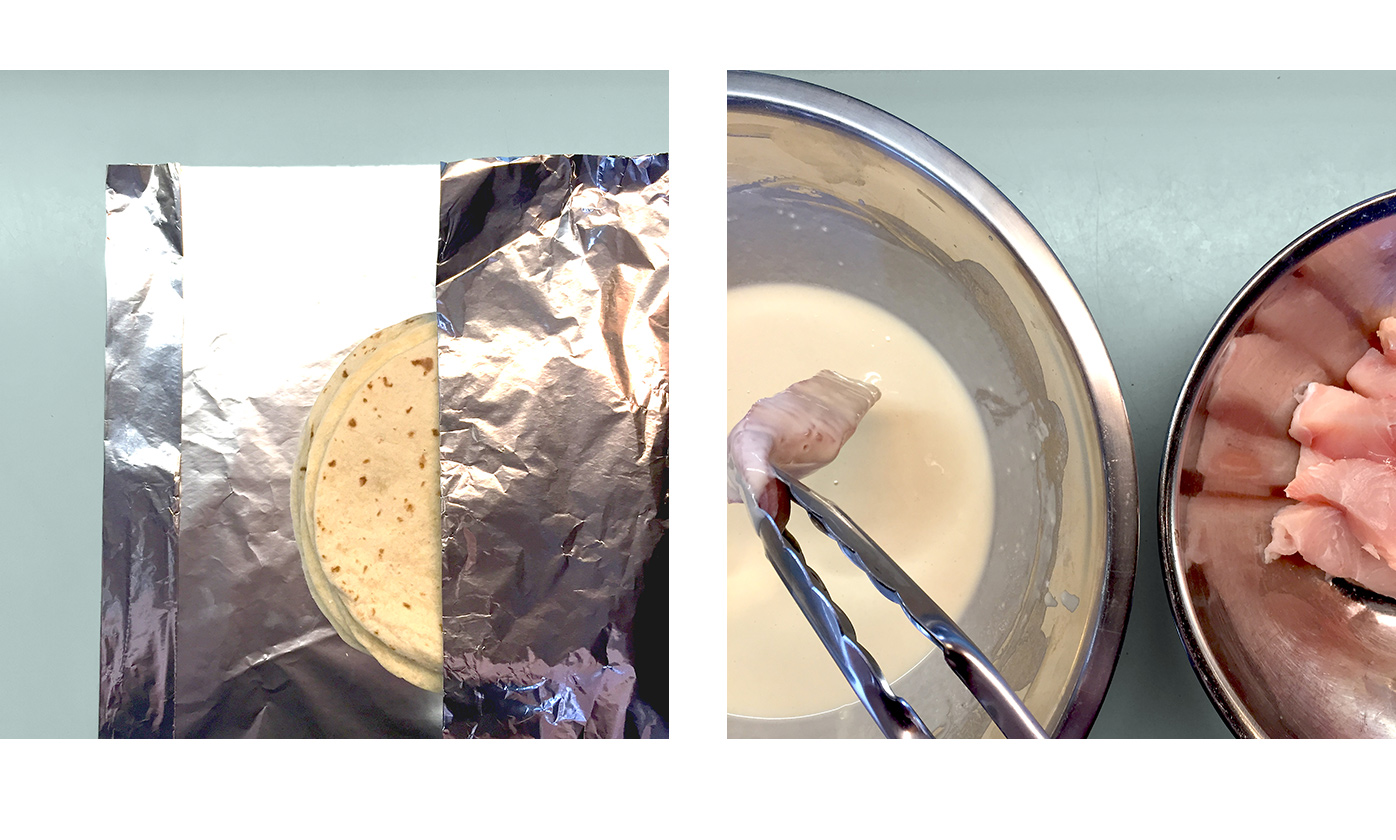 Cut the fish across the fillet into eight even strips, about 2 cm thick.
Heat the oil in a large, heavy-based saucepan until the surface shimmers.
Wrap the tortillas in aluminium foil and warm in the oven for 15 minutes.
Using tongs, coat the fish pieces one at a time in the batter, allowing any excess to drip off before placing directly into the hot oil.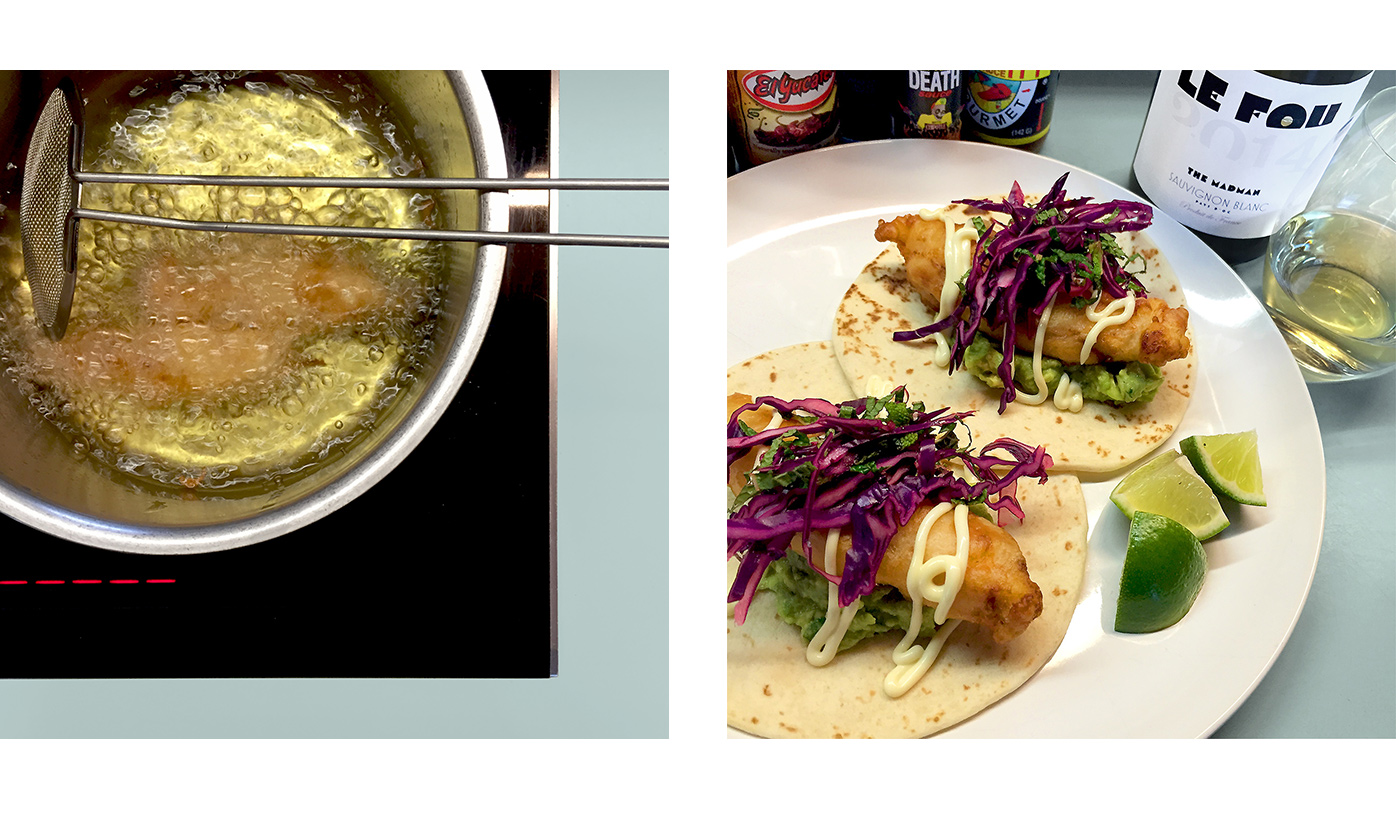 Repeat for the remaining fish, but fry no more than four pieces at a time. Once golden brown, remove the fish and drain on paper towel. Transfer to a heatproof dish and keep warm in the oven until ready to use.
To assemble the tacos, add a spoonful of guacamole to a tortilla and place a piece of fish on top. Add a squirt of mayo, followed by a small handful of cabbage slaw. Have extra lime wedges on standby, and if you're brave, your favourite hot sauces too!