TDL Deluxe : Nebbiolo – SOLD OUT
Welcome to the second instalment of TDL Deluxe. This month, we're putting the spotlight on one of the world's most captivating and sought-after varieties – Nebbiolo. Lauded by wine lovers the world over, great Nebbiolo effortlessly balances perfume and precision with power and poise in an ethereal, almost haunting, manner.
Hailing from Piedmont in Italy's north, where the variety shines as Barolo and Barbaresco, global demand has meant that many wines from the 2013 vintage – widely regarded as the best vintage since the benchmark 2010 – have already sold out, or are stratospherically expensive. Better news for Nebbiolo fans is the growing number of brilliant (and less pricey) examples emerging from nearby Roero and Valtellina, in neighbouring Lombardy – plus the handful of jaw-dropping examples currently being produced here in our own backyard.
Featuring the likes of Fletcher, Mauro Veglio and Francesco Rinaldi, the TDL Deluxe Nebbiolo pack features a selection of six wines, from both home and abroad, that we think best represent the spell-binding nature of this grape variety. As always, the scarcity of these wines means that it is a limited-edition pack and orders will be taken on a 'first in, best dressed' basis.
Happy drinking,

The Drinks List Team
"The more I taste the 2013 vintage for Barolo, the more I like it. The vintage made across-the-board beauties that show precision and intensity. 2013 is surely one of the best vintages since 2008."

JAMES SUCKLING, JAMESSUCKLING.COM
"In 2013, a cool growing season and late harvest produced gorgeous Barolos with striking aromatics, silky tannins, sculpted, vibrant fruit and mid-weight structures. Readers will find a number of thrilling, utterly captivating wines that speak to the pedigree and class that are the signatures of the best Barolo vintages."

ANTONIO GALLONI, VINOUS.COM
Medium Pack (6 Bottles) - TDL Deluxe : Nebbiolo – SOLD OUT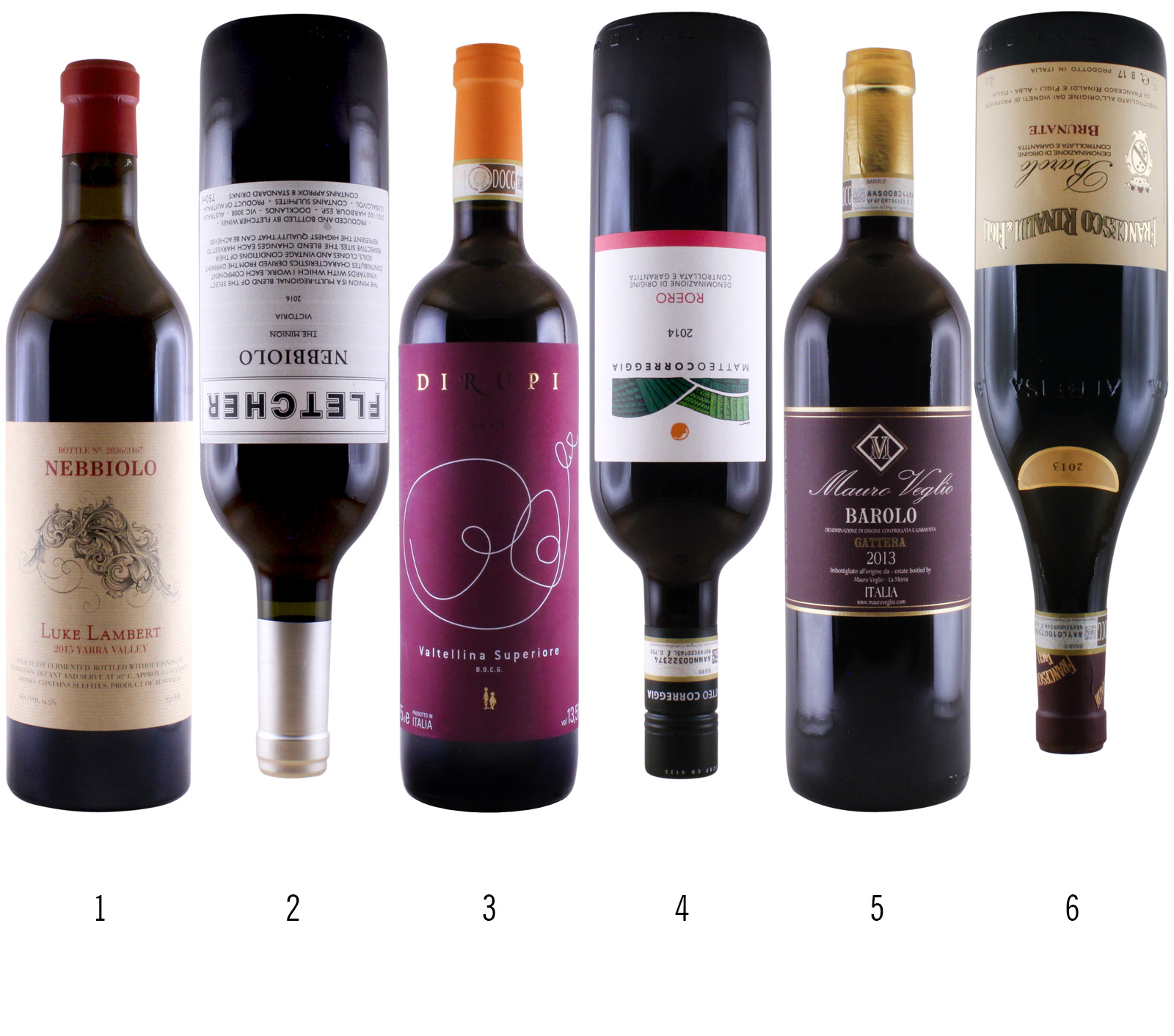 1. LUKE LAMBERT Nebbiolo 2015

YARRA VALLEY, VICTORIA

Luke Lambert's Nebbiolo has developed a loyal & devoted following over the past decade, & for good reason. Inspired by the great wines of Piedmont in Italy's north-west, Lambert's Yarra Valley Nebbiolo (drawn from the Denton Vineyard) is fermented wild, kept on skins for 21 days post ferment & matured in 2000-litre foudre. As good as Australian Nebbiolo gets. Drink it with barbecued quail.

"Rose oil, cherry, raspberry and grape jelly, spice, fennel seed and bay leaf. Medium bodied, juicy and up-front as at now, with fine acidity, plenty of supple brick dust tannin, and a redcurrant sauce and scented finish of fine length. Needs time. It demands a decant now, to shake off some of the youthful jellied fruit, but the structure and flesh here is excellent. Tasting it 24 hours later confirms it: it's now longer, more cohesive and less playful. Excellent."
GARY WALSH, THE WINE FRONT

2. FLETCHER 'The Minion' Nebbiolo 2016

MULTI-REGIONAL, VICTORIA

Dave Fletcher is obsessive about Nebbiolo. So much so, that in 2012 the Australian winemaker relocated to Barbaresco, where he now lives, consults & makes wine under his Fletcher label. Fortunately (with the help of friend Mac Forbes), Fletcher continues to produce Australian Nebbiolo, too. Drawing on fruit from the Yarra Valley, King Valley & Pyrenees, 'The Minion' boasts a core of black cherry, rose petal, dried olive & rolling tobacco, while the palate is delicately textured, intensely fruited & firm. Give it a few years somewhere cool & dark, or run it through a decanter now & drink it with risotto of wild mushrooms.

3. DIRUPI Valtellina Superiore 2013

LOMBARDY, ITALY

Widely regarded as two of Italy's brightest young winemakers, Davide Fasolini & Pierpaolo Di Franco are the duo behind Dirupi. Located in Valtellina – a sub-Alpine zone just south of the Swiss border in Lombardy – Dirupi produce a brilliant range of wines from their tiny terraced vineyards. Nebbiolo here (locally known as Chiavennasca) bears many of the hallmarks of its Piedmontese siblings, albeit with much softer tannins.
4. MATTEO CORREGIA Roero Nebbiolo 2014

PIEDMONT, ITALY

Twenty minutes north of Barolo & Barberesco is Roero, a region emerging as a treasure trove of affordable & characterful Nebbiolo. The leader of the pack is the Correggia family with a stable of peerless wines. Their Roero (100% Nebbiolo) is a textbook example of what to expect from the variety. Rose petals, dark spice, plum & strawberry hit with energy & sail across the palate with clarity & moderate tannins. Drink it with a classic veal osso buco.

"The Correggia winery continues to set the pace for other wineries in the area, providing topics for discussion and food for thought. This is the way of things ever since the much-mourned Matteo showed just how much potential there was in an apparently marginal area. Correggia's natural approach means working the land in the full awareness of the surrounding environment. It's another field in which Correggia is leading the way, sensibly and without ostentation." 
GAMBERO ROSSO

5. MAURO VEGLIO Barolo 'Gattera' 2013

PIEDMONT, ITALY

Having trained under friend, neighbour & Borolo legend Elio Altare, Mauro Veglio is now busy building his own cult-like following with a brilliant line-up of wines. Drawing fruit from the 'Gattera' vineyard (located between La Morra & Castiglione Falletto), this is a modern expression of Barolo where grapes are macerated with skins for 8 days in a roto-fermenter, followed by fermentation in stainless steel & then maturation in a mixture of new & old barriques for 24 months. Drink it with chargrilled lamb.

"The 2013 Barolo 'Gattera' is one of the more sensual wines in the range. Succulent red cherry, plum, mocha and spice are fused together in a supple, expressive Barolo that should drink well with minimal cellaring. The Gattera has a good bit of energy, like all of these 2013s, but also the softest contours."
ANTONIO GALLONI, VINOUS.COM

6. FRANCESCO RINALDI E FIGLI Barolo 'Brunate' 2013

PIEDMONT, ITALY

Long regarded as one of the greatest names in Piedmont, Francesco Rinaldi continue to produce some of the finest & most classically styled wines in Barolo. No new oak is employed here; lengthy macerations are the norm & maturation of the wines takes place in large, old Slavonian oak. From one of the greatest vineyards in Barolo (situated on the border of Barolo & La Morra), the 'Brunate' is an 'iron fist/velvet glove' wine, with deeply woven aromatics, incredible purity of fruit & trademark Barolo power & grip. Hide it somewhere safe for the next decade.
Show all profiles
6 Cracking bottles for
$

350
inc GST