TDL Deluxe : Burgundy 2015
With a spotlight on standout producers from the very best regions around the globe, TDL Deluxe represents the pinnacle of The Drinks List stable. From small-scale productions to highly sought after rarities, these limited premium six-packs have been hand chosen by us to represent the best selections your money can buy. 
France is where we begin, and as you've possibly read, the 2015 vintage in Burgundy – the home and Holy Grail of Pinot Noir and Chardonnay – has been hailed by many of the world's most influential critics as one of the greatest in recent memory.

"2015 – A Great Vintage, Indeed the Greatest Since the Legendary 2005. In fact, in all my years of visiting Burgundy I have never seen a better vintage for wines at the bottom of the appellation hierarchy. To be sure, it's great at the top as well but if ever there was a vintage to explore for value, it's this one…"

ALLEN MEADOWS, BURGHOUND

While global demand has meant that many wines from the 2015 vintage have already sold out, or are in dangerously short supply, we've managed to secure limited allocations from some of our favourite producers.
Featuring the likes of Jean-Marc Pillot, Jean Tardy, Domaine de Bellene and Taupenot-Merme, our Burgundy 2015 pack features a selection of six wines that we think best represent the jaw-dropping quality of this brilliant year.

"The vintage's standout wines—and there are a lot of them in 2015—offer a rare combination of succulent deep fruit, mouthfilling density of texture, ripe fine-grained tannins, and enough energy to ensure at least mid-term ageability. In terms of their consistent quality and broad appeal, 2015 will be a difficult vintage to top."

STEVEN TANZER, VINOUS.COM

As you can appreciate, the scarcity of these wines mean that this is an extremely limited pack, and orders will be taken on a 'first in, best dressed' basis with a limit of two packs per customer. 
Happy drinking,
The Drinks List Team
Medium Pack (6 Bottles) - TDL Deluxe : Burgundy 2015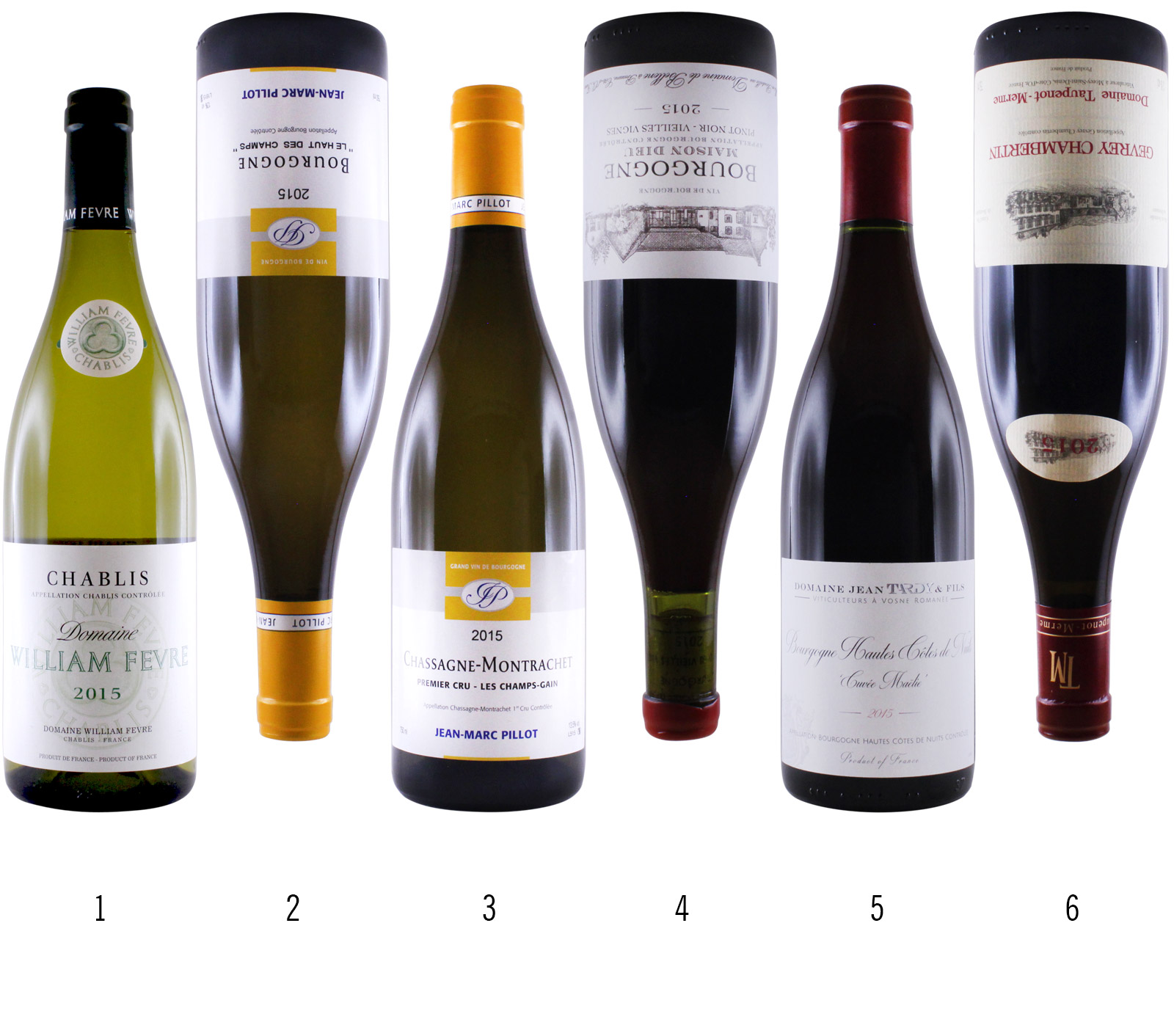 1. DOMAINE WILLIAM FÈVRE AC Chablis 2015

YONNE, FRANCE

Domaine William Fèvre has long been regarded as one of Chablis' finest producers. Fruit is drawn from old vines & almost everything here is done by hand. From the outset, there's an incredible purity to this wine where smells of beeswax, hay, lemon curd & mineral set the tone for a beautifully balanced mouthful of wine that's focused, intense, beautifully poised & long. Drink it with grilled scallops.

"Under the supervision and winemaking of super-talented Didier Seguier, Domaine William Fevre has been catapulted into the top echelon of Chablis's producers (and if you don't believe me, just ask Vincent Dauvissat or Bernard Raveneau)."
PIERRE ROVANI, THE WINE SPECTATOR

2. JEAN-MARC PILLOT Bourgogne 'Le Haut des Champs' 2015

CÔTE D'OR, FRANCE

Displaying the kind of depth & substance normally reserved for far pricier examples, Jean-Marc Pillot's terrific Bourgogne 'Le Haut des Champs' is hands down one of the bargains of the vintage. Hand-picked, fermented in stainless steel & matured in older barriques, smells of nectarine, citrus, nougat & marzipan lead to a mouthful of citrus-charged, mineral-textured wine with terrific length of flavour & beautifully balanced acid. Drink it with crayfish linguine. het

3. JEAN-MARC PILLOT Chassagne-Montrachet 1er Cru 'Les Champs Gain' 2015

CÔTE D'OR, FRANCE

Organics play a huge role in Jean-Marc Pillot's wines – 11 ha in total that is spread across holdings throughout Chassagne-Montrachet. Hand-picked & pressed to barrique, 30% of which is new, this is stylish, multi-dimensional Chardonnay layered with smells of grapefruit, nectarine, hazelnut & sweet spice, while the palate is pure, mineral, racy & wound up tight with plenty to offer underneath. Drink it with roast chicken & morels.

"Jean-Marc Pillot has now taken over the running of this 10-hectare Domaine in Chassagne Montrachet from his father Jean. He is a trained oenologist and has propelled the domaine into the top rank of Chassagne producers. Unfortunately demand for his wines has soared worldwide and as a result, stocks are limited. Buy while stocks remain! These wines seem to possess everything - richness and depth of fruit, the classic firmness of a great Chassagne and a long, smooth and harmonious finish."
JASPER MORRIS MW
4. DOMAINE DE BELLENE Bourgogne 'Maison Dieu' Vielles Vignes 2015

CÔTE D'OR, FRANCE

The 2015 offerings from Nicolas Potel are extraordinary to say the least. With TDL partner Michael McNamara stating that this is "possibly the best Bourgogne Rouge to ever come out of the domaine", the bar is set high. Expect incredible red fruit purity & sweet spice on the nose, while the palate boasts intensity, dimension & structure not often seen at this level. Drink it with wild mushroom ragù, polenta & truffles.

5. JEAN TARDY Bourgogne Hautes Cotes de Nuits 'Cuvée Maëlie' 2015

CÔTE D'OR, FRANCE

This is fragrant, pure & incredibly pretty Pinot Noir, where smells of sour cherry, wild raspberry, forest floor & spice lead to a beautifully textured & delicate mouthful of wine, but not at the expense of concentration. Tannins are abundant, but super fine. Drink it with wood-roast duck.

"Guillaume (of Jean Tardy) is one of those young, single-minded winemakers that pursue a particular style of winemaking, crafting what you might call 'modern' red Côte de Nuits that are pure and rich, silky smooth in texture, Pinot that glides across the palate. There is a purity that often reminds me of Christophe Perrot-Minot's wines, the tannins always smooth and the fruit extremely pure."
NEAL MARTIN, ROBERTPARKER.COM

6. DOMAINE TAUPENOT-MERME Gevrey Chambertin 2015

CÔTE D'OR, FRANCE

Drawn from four vineyards across Gevrey-Chambertin, this is sublime Pinot Noir where lifted smells of red & black fruit, garrigue & cedary oak lead to a mouthful of wine with incredible depth & structure. Stash it away with confidence for the next decade, or drink it now with spring lamb.
Show all profiles
6 Cracking bottles for
$

495
inc GST