Summer Survival Sixer 2021
February is here and it's finally getting hot! So, to help with you push through we have put together a summer survival kit with crispy dry whites, crunchy light reds and of course, some pretty pink.
We start with one Austria's most gluggable gruner veltliner's, and if you have never tried one we think you will be pleasantly surprised. Its somewhere between dry riesling and pinot gris and is the perfect pair to a balmy afternoon.
There is fantastic little vernaccia from the Tuscan hills, light , breezy, easy and so delicious as well as one of Australia's best value chardonnays by De Bortoli but hailing from Tumbarumba in Canberra.
The Rose or Vin Gris, as Gilles Lapalu like to call it, is a savoury and sizzling little number. As we say here at TDL, Rose is the perfect food wine and we think this will lives up to any BBQ challenge you want to throw at it.
The two reds are light, spicy and totally delicious. A 100% cinsault from Southwest France and an absolutely smashable Valpolicella form northwest Italy. The Drinks List is not one to stand on formality so we highly encourage you to put either of the reds in the fridge for a 10/15 minute blast and enjoy them with a little chill – you will not be disappointed.
That's it! Simple! Great booze perfect for Australia's warmest month!
Medium Pack (6 Bottles) - Summer Survival Sixer 2021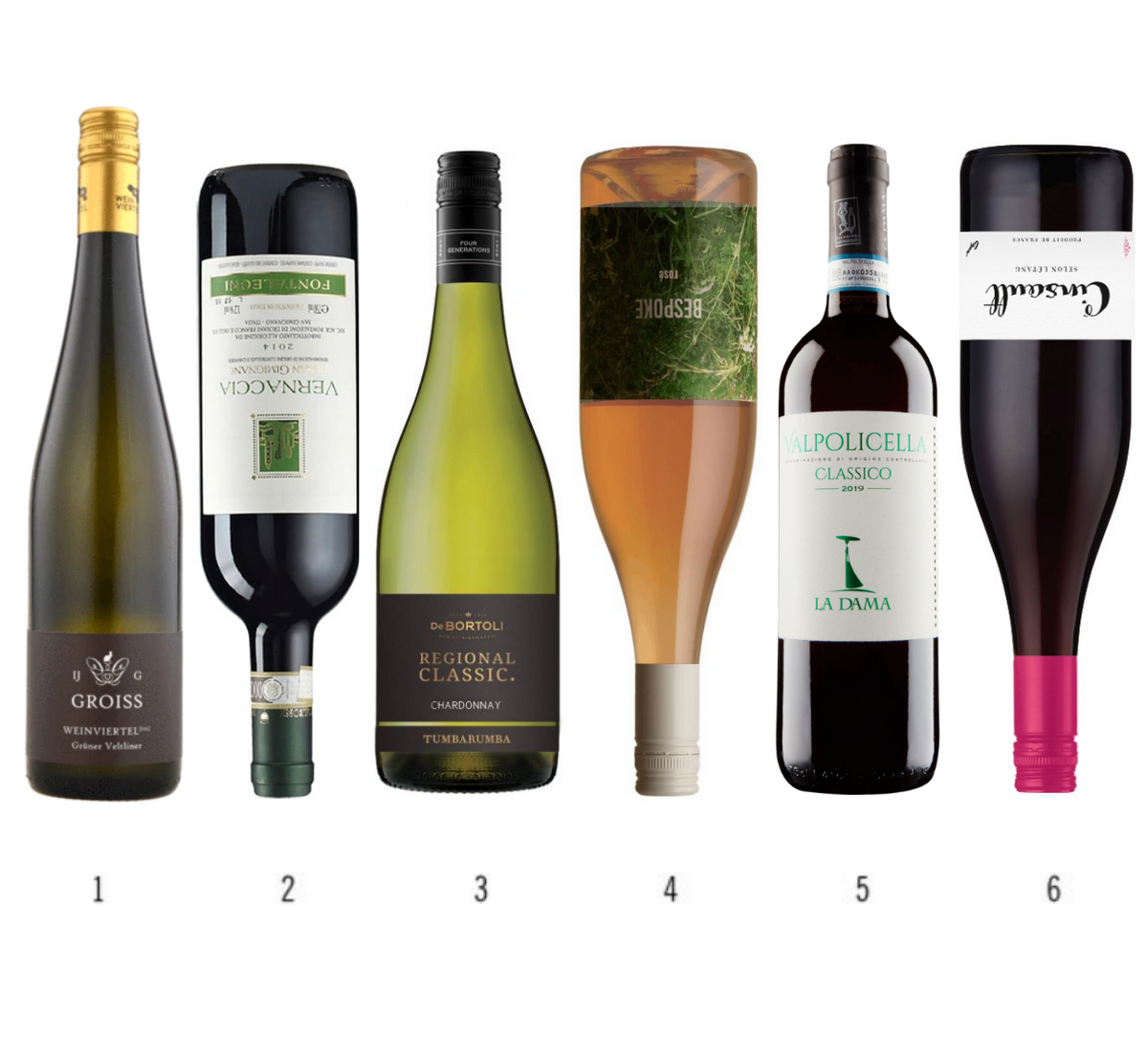 1. Groiss Gruner Veltliner 2019

Austrian Gruner Veltliner

What a gorgeous discovery this is! Ingrid Groiss returned to her parents property after studying winemaking has take over the family business since. A taste-off with her fathers wines against hers had her emerge as the clear victor and the family could not be happier.

All deft touch and instinct, Ingrid's philosophy in grounded on this love of these mature family vineyards. She picks by hand in several passes through the vineyards and ferments the juice using mainly ambient yeast. Oak is only a minor feature, but she makes the most of the fermentation lees to give texture and depth to her wines. TDL

Notes of green apple, ripe lemon and freshly cut pear flesh are most appetizing on the nose. The palate also brims with citrus freshness while riper fruit keeps flashing up amidst that bracing, lively briskness. The body is slender, vivid and dry. ANNE KREBIEHL MW, Wine Enthusiast

2. Fontaleoni Vernaccia di San Gimignano 2019

Crispy Tuscan White

The 2019 Vernaccia di S. Gimignano is an absolutely delicious, every day white. Apricot, tangerine oil, mint, chamomile and yellow flowers all grace this tasty, supple Vernaccia from Fontaleoni. ANTONIO GALLONI

Bright and somewhat crunchy with a direct line of fresh apple like acidity. Plenty to enjoy here with all the usual elements you would want from Vernaccia of this quality, apple fruit, lemon oil and white flowers along with just enough texture to provide a little tactile interest. Clean and clear cut and something I will be drinking a lot of as the weather starts to warm up again. TDL

3. De Bortoli Tumbarumba Chardonnay 2019

Outstanding Value!

De Bortoli offers some of the most interesting and best value drinking in the country at the moment. Their commitment to quality at all levels is really incredible and the fact that they manage to do this over such a large range and with such a diverse suite of wine style and varietals is unbelievable. TDL

From the Minutello Vineyard planted '81. The sheer quality of the fruit - and its clearly articulated varietal character - leaves no room for argument: this is priced well below its value. The flavours are ripe even though framed by pink grapefruit, green apple and white peach. Oak? Don't know/don't care. JAMES HALLIDAY
4. Bertrand Bespoke Rose 2020

Rose or Vin Gris?

Dry, pale, savoury rose from Heathcote Mourvedre mostly, with Nebbiolo saignee co-fermented for 2 months on Viognier and Chardonnay skins. Maturation on lees for 4 months.

It's Rose Jim, but not as we know it. Gilles talks about this wine being a Vin Gris - a broadley defined term that is Rose like but can ranger from extra pale to much darker but served cold. Plenty of texture from the skinsy fermentation that gives it a super slippery mouthfeel. Crunchy fruits and a zippy palate all back it up keeping you coming back for more.

5. La Dama Vini Valpolicella Classico 2019

Crunchy Red Blend from Northern Italy

Established by Gabriele and Miriam Dalcanele in 2006, La Dama represents the new breed of winemakers in the region. Modern, fresh yet compelling wines coaxed from organically farmed vineyards in the fabled commune of Negrar, home to some of the great names including the legendary Giuseppe Quintarelli.
Their 10 hectare estate has been certified organic since 2015. This is incredibly important to the Dalcanele's – preserving the nature and health of their working environment has always been the driving philosophy of the husband and wife team. "Everything has to be done in the most virtuous way, using only natural products from the vineyards to the cellar" says Gabriele.
Working only with the native varieties of Corvina, Corvinone, Rondinella and Molinara, vineyards are trained in the typical pergola fashion and everything is hand-picked. Oak influence is kept to a minimum in order to ensure the vineyard speaks for itself in the glass.

Super ethereal in style with red currant and red berry fruits to the fore. The palate is delicate and fresh with vibrant and pure, silky fruits that race through. It's such a perfect Spring/Summer red and if you felt the need a slight chill on it would not be out of place.

6. Selon Letang Cinsault 2019

100% Spicy Cinsault

A range of wines that express the character of their grape varieties in Guillaume's preferred style, hence 'Selon Létang' (according to the winemaker Guillaume Létang). The style? Sleekly built but with plenty of flavour - nailed it!

This 'croquant' Cinsault is bright and deliciously enjoyable. Unoaked, vibrant redcurrant and raspberry fruit with a wild, delicately tannic herbaceous edge. There is an almost Pinot Noir like form to these wines or a north-west Spanish feel with its minerally flecked fruit. Either way it's a lovely Cinsault and makes us wonder why we don't see more. Perfect summer sipper with that x-factor going on.
Show all profiles
6 Cracking bottles for
$

158
inc GST