Reed Wines Sampler Six Pack
'…Sierra Reed, whose winemaking endeavours have found her globetrotting, and a resume that includes grape handling at Rippon, Chiara Boschis, Lethbridge, Domaine de Vissoux and Mount Langi, amongst others… Reed has a quiet confidence and determination about her, and seems to cross pollinate with an intelligent, independent mob of younger gen winemakers from around various bits of Victoria (and further afield). Good vibes.' MIKE BENNIE, thewinefront.com
For those lucky enough to have met California native Sierra Reed, you can't help but be taken-in by her passion for life and passion for wine. Like her, her wines are full of joie de vivre – expressive, vibrant and singular, wines that reflect the best of the sites they are grown, marked subtly and beautifully by thoughtful winemaking.
Her small but impressive line-up are made from sub-regional Victorian vineyards, the Barossa, as well as a Beaujolais from France! With a myriad of international vintages under her belt, Sierra has a deep pool of knowledge to draw upon and has made some invaluable connections and draws upon her friendships to access fruit from across Australia and France.
In the winery she is a powerhouse, tackling her duties with a gusto that would put many to shame in the wine scene. Sierrra is hands-on in every respect, touching and guiding every part of the winemaking process from start to end and imparting a wonderful delicacy, focus and charismatic charm to her wines.
During vintage she flies to Barossa to pick grenache, jumps across to the Grampians to collect her shiraz and heads down to the Mornington to pick her pinot gris. Where possible she works a vintage in Beaujolais with her mentor Pierre Marie Chermette from Domaine de Vissoux producing wine from one of her favourite block on the Fleurie Hill.
To celebrate this young and up-and-coming winemaker we have put together a sampler pack of 3 of Sierra's wines. It includes the spicy and lifted Alexia Grenache, her Knife Edge smokey, peppery Great Western Shiraz and her fantastic Cru Beaujolais.
We also got Sierra to send us a quick video with her thoughts and philosophy on these wines and a little background on why she does what she does, so take a look HERE.
If this is the future of wine in Australia, we are in safe hands.
Please Note: the pack consists of 6 wines in total with 2 of each of the Alexia, Knife Edge and Papa Beaujolais.
Medium Pack (6 Bottles) - Reed Wines Sampler Six Pack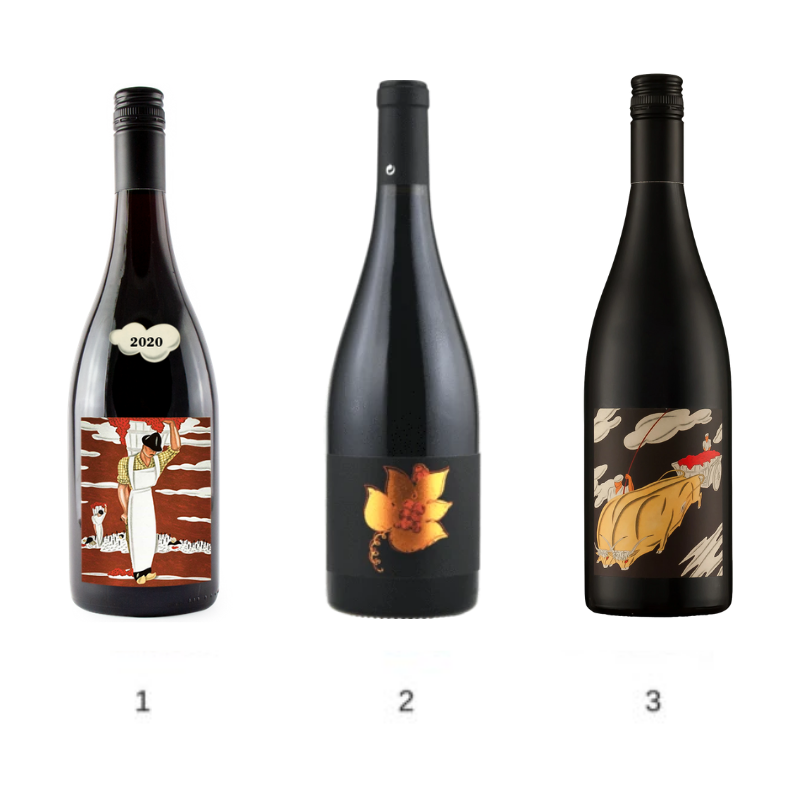 1. Reed Alexia Grenache 2020

100% Vine Vale fruit from old bush vines

Considering the vintage that was 2020, this wine was a silver lining for me. The seduction of Grenache is alway present but to truly find its balance takes taming and fine tuning. After 6 years of working with this variety, a true and perfect balance of perfume, acid, tannin and fruit came together and made this drop. On the nose the primary red fruits and crushed roses pull you in. On the palate the talcum powder tannins and plushness are broken up by the wines electric tang and cold black tea depth. Seamless like a Chanel jacket. SIERRA REED

2. Reed Papa Fleurie Beaujolais 2019

Cru Beaujolais

Living up to its Fleurie cru status, this invites with florals and cherry compote scents. Fresh earth and spice then quell the florals and a lovely hit of sprightly acidity carries the flavours along. Fine silt like tannins to finish, delicious. TDL

This wine screams of its mother place Beaujolais and of the teachings of my greatest mentor Pierre Marie Chermette. Fleurie captures the purity and beauty that is Gamay and this wine is living that truth. Tart red fruits, delicate but present acid and loads of perfume shape this wine. if this wine could speak its wisdom would educate you and its juvenile nature would charm you. SIERRA REED
3. Reed Knife Edge Shiraz 2019

From the Hutton and Dalberti Blocks of Sugarloaf Vineyard in Great Western.

A spicy and slippery shiraz packed with pepper, smoked meats and dark inky fruits tones. Lovely chewy tannins and a savoury salty licorice twist on the finish. TDL

Handpicked, hand destemmed and sorted, wild fermentation with 1/3 100% whole bunches. Elevaged in large format neutral French oak. Black olive, wild blueberry and tart plum fruits fill the palate. Aromas of smoked meat, white pepper, violets and dry dusty earth on the nose. This wine glides along the palate with ease and balance and bright energy. Modern framed Grampians shiraz with the regional hallmarks of spice and graphite. Long, layered and complex. SIERRA REED
Show all profiles
6 Cracking bottles for
$

288
inc GST