Italian Mixed Dozen – August 2020
Looking at a map of Italy it is incredible to think about the diversity and distinctiveness of the wines that hail from its multitude of often breathtaking terroirs. The numerous and assorted climates from the warm southern coasts, the high altitudes of its northern reaches and all in between, provide a canvas for a majestic array of wine.

Add to that, Italy's wine scene is as exciting as it has ever been with an assortment of indigenous varieties and wine styles that we are only just beginning to appreciate. This is a great way to explore all that this ancient country has to offer.
Large Pack (12 Bottles) - Italian Mixed Dozen – August 2020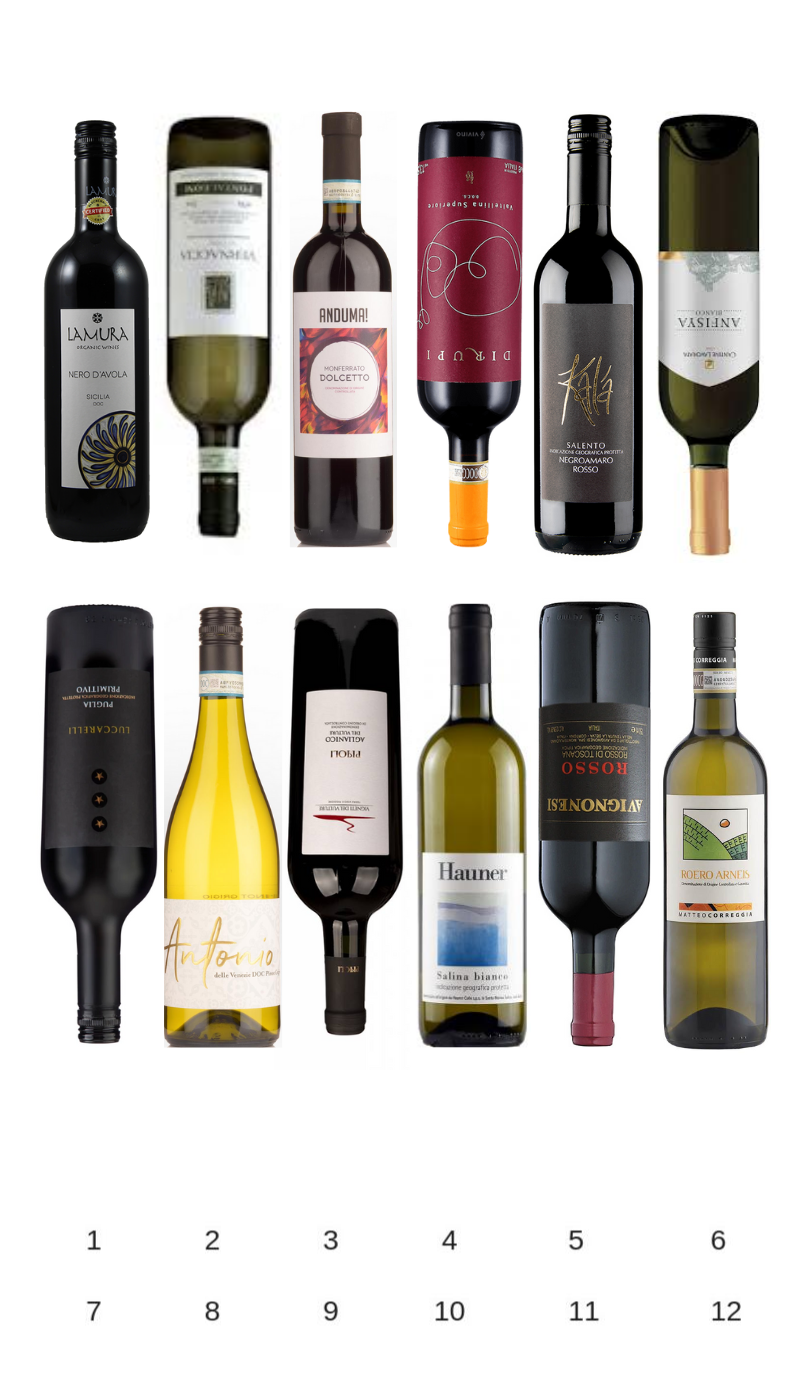 Show all profiles
12 Cracking bottles for
$

319
inc GST
Medium Pack (6 Bottles) - Italian Mixed Dozen – August 2020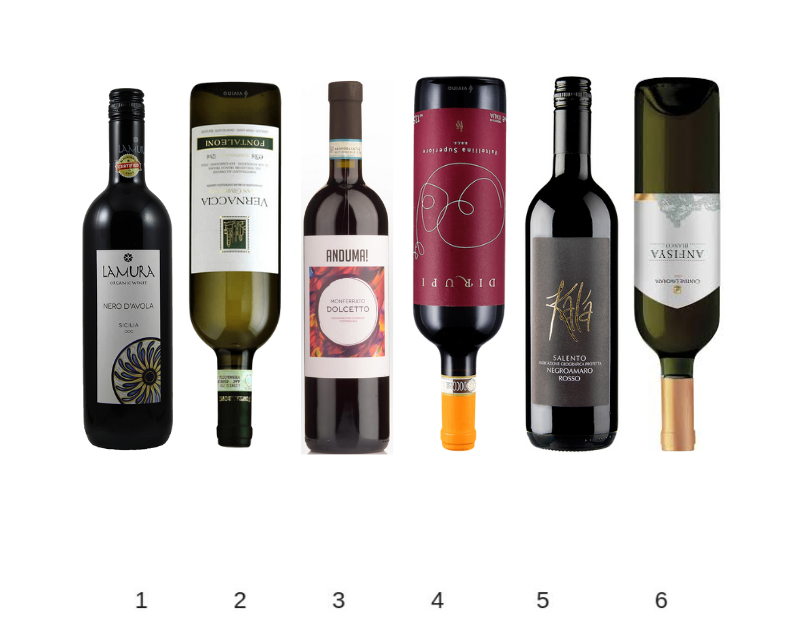 1. Lamura Nero d'Avola 2018

100% Nero d'Avola, Sicily

Lamura wines represent the best winemaking traditions of Sicily. These wines come from grapes selected from the best vineyards located in the areas of Marsala, Agrigento, Ragusa, Gela and Trapani. The wines created reflect the diverse elements of the Sicilian territory. This is 100% Nero d'Avola.

This is killer value Nero from Italy's warm south. A little hit of summer breeze and waft of the Mediterranean coast to slip you away for just a moment from the encroaching winter cold.

There is a clever use of just 10% whole bunch to give this a little extra punch of spice and lift. The rest is all de-stemmed which leaves a pure and fresh, red fruit profile that runs through the core of the wine. Not too light, not too heavy but just right. This is warm, crisp and clean with an underlying wild herb lilt that adds a nice bit of complexity. This is modern styled Nero at its best in a crunchy, delicious drop. Wednesday night pizza/pasta wine if ever I tried one!

2. Fontaleoni Vernaccia di San Gimignano 2018

Vernaccia from the Tuscan hills

Fontaleoni is a family estate run by brother and sister team, Matteo and Simona Troiani, with a little help from consultant Paolo Caciorgna. They've succeeded in producing a range that is emblematic of the best of what the region has to offer with particular emphasis on Vernaccia which, it has to be said, has been a revelation in the years since we first started seeing them in Australia. Look out for their Chianto Colli Senesi when its back in stock!

The 2018 Vernaccia di S. Gimignano is bright, airy and crisp, all of which make it an excellent choice for drinking now and over the next few years. The light, refreshing style makes the 2018 a delicious aperitif styled wine. This is an especially fine edition of the straight San Gimignano. ANTONIO Gallonui, Vinous

3. Anduma Dolcetto 2018

100% Dolcetto, Piemonte

Wine retailer turned wine importer has shipped this juicy red from a family owned operation in the hills of Roero outside Asti. The fruit is cultivated on sandy clay soil at an altitude of 300m without the use of herbicides or chemical fertilisers. Stainless steel fermentation and short ageing is employed to keep this fruit forward and fresh. Cherry and tart plum aromas are mirrored on the palate in a juicy density that is accompanied by a useful brush of tannin. Super food friendly, Dolcetto is often the ultimate lunch wine! This is delicious stuff!
4. Dirupi Valtellina Superiore 2015

100% Nebbiolo from Italy's Northern hills

Dirupi is the brainchild of Davide Fasolini and Pierpaolo Di Franco; two of the most talented young winemakers in Italy today. Located in the Lombardy region of Valtellina - a sub-Alpine zone just south of the Swiss border - Dirupi farm a staggering 17 tiny terraced vineyards; all at different elevations, aspects and varying vine age. As much as possible the Dirupi boys employ sustainable practices in the vineyard however this isn't always possible due to the nature of the climate and difficulties inherent in such peculiar vineyards.

Range of vineyards across Grumello and Inferno sub-zones 450-600 metres above sea level
Those who have followed this wine in the past know what to expect here. As always, the purity and elegance of the aromatic is a feature and what these Valtellinan Nebbs have in spades : haunting aromas of crushes rose petals, small berry red fruits and subtle minerality. You can live off the smell alone. Nicely ripe red and some black fruits sit astride the palate with a supporting cast of gentle spice and moderate but persistent tannins forming a staging site for one of the best releases of this wine I have ever tasted.

The 2015 Valtellina Superiore is a delicate and refined expression with a fluttering of fast-paced aromas that resemble cassis, rose, violet and toasted anise seed. The wine is super lightweight on the palate, but it is lively too, leaving absolutely no traces of any residual heaviness. It wraps over the palate like silk sheets. This vintage is very open and accessible. 91+ points ROBERT PARKER

5. Palama Kala Negroamaro 2017

100% Negroamaro, Puglia

Cosimo Palamà and his family have a long tradition of wine-making in Cutrofiano, Puglia, located almost the furthest south you can get in the "heel" of Italy's boot. Cosimo makes very traditional Pugliese wines which are consistently delicious and amazing value for money in a pure and fresh style. They let the variety shine here with very little, if any tricked-up wine-making.

The bouquet delivers a ripe personality with prune, raisin, and dark fruit flavours. Still that dark cherry hit with a little cherry cola or blackcurrant liqueur on top. This has chewy, sweet, soft, and velvety tannins that carry this wine along nicely. While traditionally styled these definitely head in a brighter fresher direction that we are starting see more commonly for these southern varieties - and we like it!

6. Cantina Lavorata Anfisia Bianco 2018

Blend of Insolia, Malvasia and other local varieties

Owned by the Lavorata family by 4 generation, Luigi Lavorata showed interest in viticulture and winemaking backn in the 1800's but it wasn't until the 60's that the winery took form. Nowadays the winery is run by the whole family and based in the beautiful Roccella Jonica on the Ionian sea side of the Calabrian region. Organic handling (not certified).

The cuvee name Anfisya derived from Amphissa, the historic name of Roccella Jonica, which was once the site of the ancient Greek settlement of Amphissa. Blend of Insolia, malvasia and local variety Guardavalle, named after the town of Guardavalle, 30 mins north-west of Roccella Jonica.
Each variety is fermented separately in stainless steel and then blended together. Short bottle ageing before release. Organic handling (not certified).

Lifted and aromatic with a lovely mineral lilt to the nose and palate. The Malvasia give it a honeyed, nectarine hit and flroal lift while the Insolia pulls the wine together and gives it a firm hold through the mid-palate. Its fleshy and easy but put together really nicely. Good stuff!
Show all profiles
6 Cracking bottles for
$

174
inc GST