It Better Be Rosé!
Rosé all the way if we keep up with this awesome warm weather. We think there couldn't be a better way to while away the hours with a glass or two of this wonderful pink nectar of the gods.
Not only is Rose perfect for the changing season we think its such a versatile drink and goes with so much different fare whether you are paring it with a light snack or even something more substantial. Some grilled salmon on the BBQ or a selection of charcuterie and you will always come up trumps with a bottle of Rose in the fridge.
This packs has a selection of some of the freshest Rose on the market. From its homeland in Provence and the southwest of France to Argentina all the way to the shores of our great southern land.
Medium Pack (6 Bottles) - It Better Be Rosé!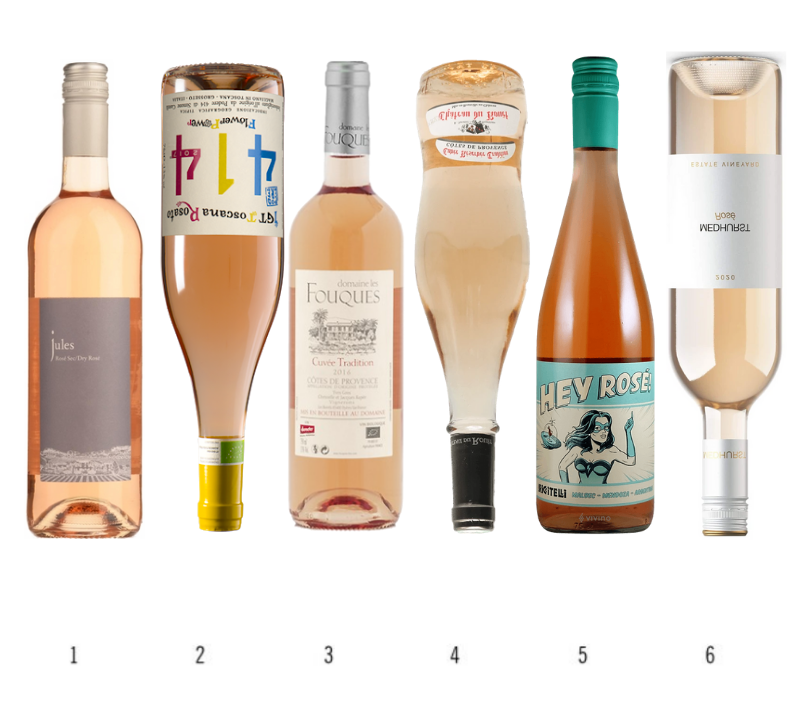 1. Jules Mediterranean Rose 2019

Southwest France

Hugh and Jane Faulkner fell in love with a vineyard, situated on the foothills of the Masif des Maures, in the centre of the Var, and settled at the property in 1989. Their eldest son Julian would eventually take over the running of the vineyard in 2000. A shrewd wine businessman and talented vigneron, Julian established the Jules label with the mission to craft delicious, accessible, and great value wines with single estate personality.

Another killer Rose from Jules and one of those wines you ask yourself how they can do it for the money? Hints of citrus peel, fresh cut fennel and cranberry/red currant fruits on the nose follow into a juicy palate of crunchy, bright red fruit with a white pepper finish. Really juicy and bright but perfectly dry and eminently drinkable. Now under screwcap how can you go wrong? You would be crazy to not have a dozen of waiting in the wings for every time someone drops by for a drink on the patio or that last minute BBQ invite

2. Podere 414 'Flower Power' Rosato 2019

Italian Rosé

Podere 414 was the plot number allocated to this piece of land by in the 1960's, during the division and redistribution of much of the Maremma to farmers. These farmers inherited totally wild and uncontaminated lands composed mainly of forests and pastures and adopted an almost exclusively subsistence farming model.

In 1998 Simone, together with wife Mara, purchased the plot known as 414 and set about planting the varieties most suitable to the character of Maremma to produce a wine that is indisputably Mediterranean in character (generous in colour, aroma and body) without losing its elegance.

Cranberry and cherry with earthy spice greet the nose with hint of citrus peel and a touch of Campari-esq spice. It's built lithe and zippy with nice crunchy fruits and a burst of red berry goodness. Great Italian Rosé.., sorry, Rosato!

3. Domaine les Fouques Cuvee Tradition Rose 2018

Provence Rose

Biodynamic viticulture is of surprising rarity in the Provence region given the ideal sunny and windy conditions; one outstanding practitioner is the tiny property of Domaine les Fouques, run by Yves Gros, with the wine made by daughter Christelle. Guinea fowl and chickens are also farmed here. At a mere 17 hectares and in a stunning setting, a visit here offers a somewhat mystical quality.

These are terroir wines, make no mistake. There are consistencies of quality and style (the peach, melon and slate as the site's signature) with wines transparent of vintage and place – sound like great Burgundy, Barolo or Mosel? This serious and magnificent producer challenges many perceptions and norms of rosé.

80% Grenache, 20% Cinsault.

This rosé displays a wonderfully full fruited and fleshy appeal, showing more density and textural layering than many other Provence counterparts. The low intervention winemaking throws elements of funk and texture but in a very good way, adding to the profile of peach, melon and wild strawberries. An energetic wine.
4. Chateau du Rouet Cuvee Reserve Cotes de Provence Rose 2018

Provence Rose

With a kiss of sun on your shoulders and the hot summer day cooling -with the lingering salty tang of the sea what you need is a crisp cold dry French Rose. Delicate blush light pink in colour - Crisp-clean finish and a delicate grip - Rouet Rose 2018

Popularity of French Rose has exploded and this is one of our favourites, make sure you have enough to keep at least one in the fridge all summer. The Drinks List

Limpid orange. Aromas of ripe red berries and pungent flowers carry a subtle floral overtone. Spice-tinged, nicely concentrated strawberry and tangerine flavors deepen and spread out slowly with air. Shows good clarity and spicy bite on the finish, which leaves a subtly sweet red fruit note behind. JOSH RAYNOLDS, Vinous

5. Matias Riccitelli Hey Rose 2019

Malbec Rose from Argentina

We love the wines of this young gun coming out of Argentina. Matias has worked in many of the best wineries in South America honing his craft and this is fantastic little rose. You don't see many Malbec Rose but Matias has hit the nail on the head with this one. It's a pale rosé with freshness and natural acidity, from a vineyard worked specifically for rosé. This is no afterthought or something for left-over grapes. It's clean and fresh brimming with strawberry and wild berry fruits. Its not too lean, not too light, but balances its fruits with a zingy mouthfeel.

6. Medhurst Estate Rose 2020

Yarra Valley Rose

This a blend of whole-bunch pressed cabernet sauvignon and shiraz in varying degrees depending on vintage. Simon Steele has always loved the savoury edge that Cabernet brings to rose and integrates its so beautifully. Year in year this is one of our favourite releases in the world of Rose. Its succulent and juicy with zingy fruits and super vibrant. It has an impeccable balance rushes in with so much flavour. It's hard to say no to this on a warm day or any time really!
Show all profiles
6 Cracking bottles for
$

168
inc GST