Greatest Hits: Volume III
Taken from our most popular packs, Greatest Hits: Volume III brings together a dozen of our favourite wines this year in one 'best of' pack. And so, without any further ado, here are the wines that pushed our buttons for one reason, or in some cases many reasons. We hope you love them!
Sit back, relax and crack the top of something nice while you chill to our latest Autumn Grooves HERE.
Large Pack (12 Bottles) - Greatest Hits: Volume III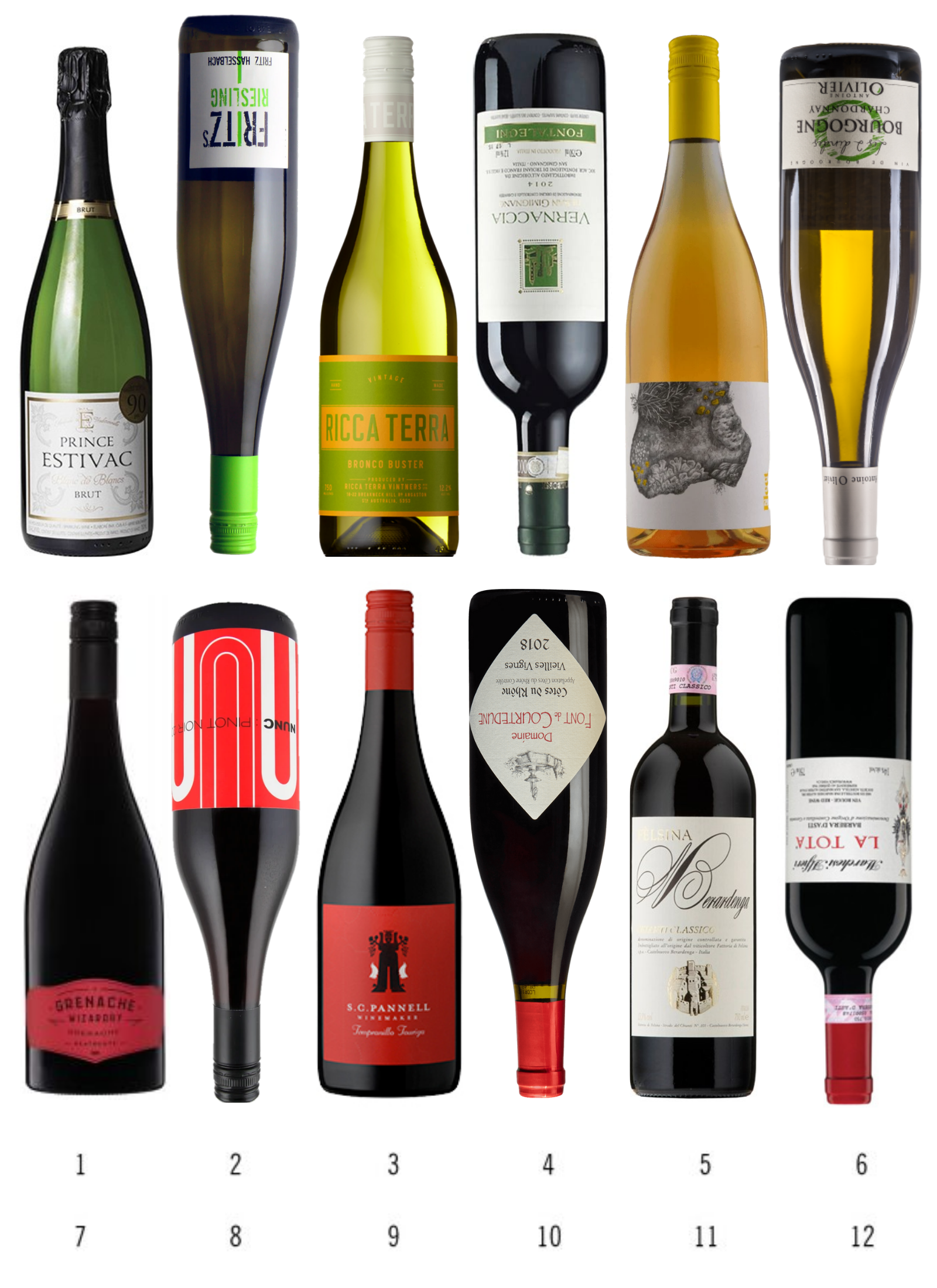 Show all profiles
12 Cracking bottles for
$

365
inc GST
Medium Pack (6 Bottles) - Greatest Hits: Volume III
1. Gunderloch Fritz Riesling 2019

German Dry Riesling

Wow! This is one of the best Fritz we have tried to date. So saline and mineral, brimming with stone fruits and just rips along the palate. Nicely focused and the driest, stylistically, we have seen too. We have always loved the fresh, bright and juicy nature of this wine and the 2019 just takes it all to another level. Great stuff!

2. Ricca Terra Bronco Buster White 2020

Vermentino, Fiano, Greco and Arinto - WHAT!?

This crazy and delicious blend from vermentino, fiano, greco and arinto grapes is produced by Ashley Ratcliff and family from the Ricca Terra farms of Riverland, South Australia.

There is a lovely chalky and green melon that greets you on the nose that flows into succulent nashi pear and green tree fruits. It's a bit like trying to catch wind with you hand as all the spicy fruit and mineral laden falvours and aromas rush around your senses. Crisp and dry with lip-smacking fruit and refreshing acidity that makes you want for more. So good!

3. Fontaleoni Vernaccia di San Giminiano 2019

Crispy Tuscan White

The 2019 Vernaccia di S. Gimignano is an absolutely delicious, every day white. Apricot, tangerine oil, mint, chamomile and yellow flowers all grace this tasty, supple Vernaccia from Fontaleoni. ANTONIO GALLONI

Bright and somewhat crunchy with a direct line of fresh apple like acidity. Plenty to enjoy here with all the usual elements you would want from Vernaccia of this quality, apple fruit, lemon oil and white flowers along with just enough texture to provide a little tactile interest. Clean and clear cut and something I will be drinking a lot of as the weather starts to warm up again. TDL
4. 5. SC Pannell Tempranillo Touriga 2017

Touriga & Tempranillo Blend

When you get to read Jane's review below we thought we couldn't have it said it better. If you don't know this wine from SC Pannell, well, consider yourself informed. An infectious and sumptuous red blend from Spain and Portugal's most important varietals. A match made in heaven.

Sometimes, partnerships just work and sync immediately. Like these two Iberian varieties. Comfortable together, complementing the qualities of each to make an harmonious drink. Dark fruits, red and black licorice, roasted coffee beans, wood char and charcuterie, sarsaparilla and nutmeg. Medium-bodied, energetic and damn delicious. JANE FAULKNER. JamesHalliday.com

5. Domaine Font de Courtedune Cotes du Rhone Village 2018

Village Rhone Red

The family have long owned a plot in the Courthezon sub-zone of Chateauneuf du Pape -in fact it is right next door to the revered, Chateau Rayas. Like so many in the area the norm was to grow and sell fruit and not make their own wine. However, in more recent times at Courtedune, the next generation of Caroline and Frederic Charrier returned to the estates over a decade ago with firm ideas of making their own wines from this unique plot of 40-60 years old, mostly Grenache, vines.

The resulting wines are made in a non-interventionist manner - no new oak, no over extraction with the emphasis being on letting the fragrant fruit express itself without the high octane aspects of some of the regions more heady styles.
Show all profiles
6 Cracking bottles for
$

166
inc GST