Four Pillars Negroni Pack
The Negroni. Is there anything it can't do? It seems to be the all-year-round perfect cocktail. Enough guts for a winter tipple but bright, sunny, and warm just perfect for a balmy afternoon. This is a classic for a reason and such an incredibly enduring cocktail that has surged again in popularity in Australia to become, once again, a firm staple of the dinner and cocktail set.
The most widely accepted version of the drink's origin is that it was invented at Caffe Casoni in Florence, Italy in 1919. The story goes that Count Camillo Negroni asked bartender friend Forsco Scarselli to make his favourite drink – an Americano – just a wee bit stronger. He added Gin, threw out the soda and added a slice of orange as garnish instead of a lemon and the rest, as you know, is history.
With the recent proliferation of all things distilled in Australia in has been a perfect storm of sorts and it's no wonder, with such incredible quality spirits being made locally, that there has been such a revival of this classic cocktail.
To celebrate the Negroni and our local spirits heroes, we have put together a pack to make the perfect Aussie Negroni. The recipe is below, and the pack contains a bottle each of the Four Pillars Rare Dry Gin, Adelaide Hills Distillery Bitter Orange and Allies a Cinq Sept Vermouth.
We could drink anyone of these on their own they are that good but together they are a hard act to follow.
25ml Four Pillars Rare Dry Gin
25ml Allies a Cinq Sept Vermouth
25ml Adelaide Hills Distillery Bitter Orange
STEP 1
Pour the gin, vermouth and Bitter Orange into a mixing glass or jug with ice. Stir well until the outside of the glass feels cold.
STEP 2
Strain into a tumbler and add 1 large ice sphere, a large block or some fresh ice, and garnish with an orange slice… so simple, so good!
Small Pack (3 Bottles) - Four Pillars Negroni Pack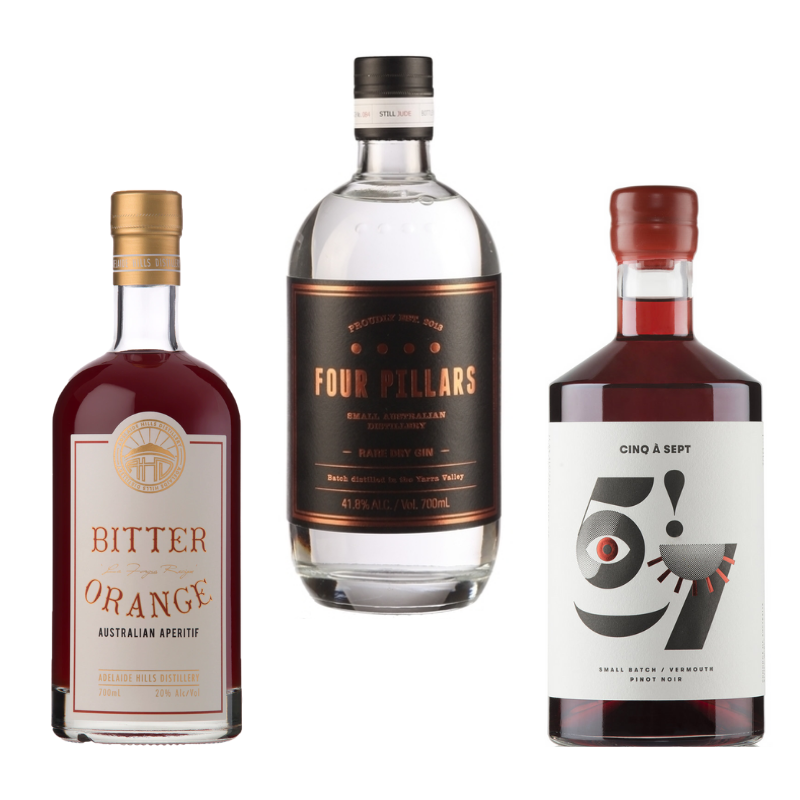 1. Four Pillar Rare Dry Gin

London Dry style with an Aussie Twist

Four Pillars Rare Dry Gin is crafted to deliver the best of all worlds: a perfect, classic gin and also something that would fascinate and delight even the most hardened gin fanatic. It's spicy but with great citrus, a truly modern Australian gin.

Four Pillars Rare Dry Gin captures the essence of contemporary Australia's heritage in Europe and Asia. We're using whole oranges which is unusual but Australian citrus is highly aromatic and supports the spicier botanicals like cardamom.

The cinnamon and star anise add rich fruitcake tones, the Tasmanian pepperberry leaf provides warmth rather than heat, and the lemon myrtle is a beautiful alternative to lemon peel.

Our Rare Dry Gin has been awarded medals at a number of prestigious international competitions: Double Gold in the San Francisco World Spirits Competition in 2014 and 2016, Silver in the London International Wine & Spirits Competition 2014, and Gold at the Hong Kong International Wine & Spirits Competition 2014.

2. Adelaide Hills Distillery Bitter Orange

Bitter Sweet Apertif

An Australian expression marrying traditional European bittering herbs with predominantly Australian ingredients at its core. The nose is herbal, floral and bursting with bright Riverland orange. The palate is deliciously bitter, fresh and citrus driven.

It's Australia's answer to Campari and is one of the first, if not first of its kind and probably our favourite. Distiller Sacha La Forgia of Adelaide Hills Distillery is the first Australian distiller to ever be awarded the title of Distiller of the Year at the Icons of Gin Awards which took place in London at the end of February so you know you are in good hands. Its just a touch less bitter then Campari but in our opninion even more delicious!

3. Allies Cinq a Sept

Aussie Red Vermouth

Cinq a Sept is French vernacular for the aperitif time of day. For the uninitiated, Vermouth is a wine based fortified aperitif typically having elements of herb, spice, citrus and bitterness. Most often the wine plays second fiddle to the recipe but with Cinq a Sept it shares equal billing. Expect fresh raspberry fruit laced with refreshing herbs, exotic spice and mild bitterness. Great on ice with a slice of orange or grapefruit, longer with a dash of soda or as a bit player in cocktails like... wait for it... a Negroni!

We are totally in love with this product! Why? Because its flippin delicious! Pinot Based vermouth from the man behind Allies David 'Chappy' Chappman. He has just nailed it with this bright, bitter, summery drink. The subtle sweetness is beautifully balanced against the bitter citrus notes and the whole thing just sings. Of course, it's begging for a Negroni but this is so good we would just splash it on some ice with a citrus twist of your choice and a dash of soda. Enough said.
Show all profiles
3 Cracking bottles for
$

216
inc GST