Christmas Drinking Mixed Dozen
Here it is! The famous Dinks List Christmas Drinking Dozen. Well maybe not famous yet but it will be once you get a load of all the stellar drinking in this pack.
So what is the theme? Great drinking! That's it. We are keeping it simple. Weather you are throwing some seafood on the BBQ, having friends over for a catch-up or anything in between we have put together a great selection of whites, reds, rose, sparkling and of course a magnum of wine to really get the party started.
This year's magnum is a double dose from one of the world's greatest estate. The Guigal Cotes-du-Rhone is a perennial favourite here at PWS and its so much the better when it comes in a super-size me bottles. From one of the great vintages of the last decade in the Rhone, I doubt even 1500ml's is going to last you long.
Just like seafood, BBQ's and a bit of pav, rosé is a must for any Aussie Christmas, and we have given you one of the best around. Bondar is putting out some of the tastiest McLaren Vale wines we have seen, and this 100% Grenache rosé is a stunner. It has got to be one of the most drinkable Rosé's we tried this year. You won't be disappointed.
From Alsace in France, we have the Prince Estivac Blanc de Blanc. It's another stellar drop that is so on point. Made from several noble varieties of Alsace (Pinot Blanc, Riesling, Pinot gris) it's a pitch perfect bubbles, crisp and dry but packed full of flavour. Whether you are popping it on Christmas day or to help ease the headache on the 26th this will hit the spot.
From Italy it's a double header with the ever-delicious Marchesi Alfieri La Tota Barbera and the cracking little Chianti, Buccia Nera. These seriously over-deliver for the money with plenty of juicy fruit flavour and that little bite that make Italian red the perfect BBQ fare. If you are throwing some burgers on the BBQ or grilling up some tasty lamb you can't go wrong.
Back in stock, just in time for the Mixed Dozen, is the Racine Picpoul de Pinet. This has fast become a staff favourite and it's not hard to see why. Its racy and fine with whistle clean fruit, a hint of peppery spice getting top marks in the slurpability scale. The perfect partner with prawns (hot or cold) and basically any seafood you can throw it. We might have a couple of pallets, but I reckon this aint going to last long.
That's just the start! We have a cracking vintage if Aussie Riesling from Shut the gate and their Rosie's patch Clare Valley Riesling – tried this for the first time recently and instantly fell in love, classic stuff. From Margaret River legends Voyager this is one of the best value Chardonnay's we have seen all year.
We have Yarra Valley Pinot Noir by Nunc hailing from 4 of the Yarra's best vineyards and made by champion, Dave Mac. There are two cracking Spanish reds; the Avaniel Ribera del Duero Tempranillo and the smart little Mesta Garnacha. These varietals rule supreme and these are great example of both. And last but not least a 100% Syrah from the southwest France and the cheeky but deliciously names Pour les Vin!
Happy holidays, stay safe and enjoy!
Large Pack (12 Bottles) - Christmas Drinking Mixed Dozen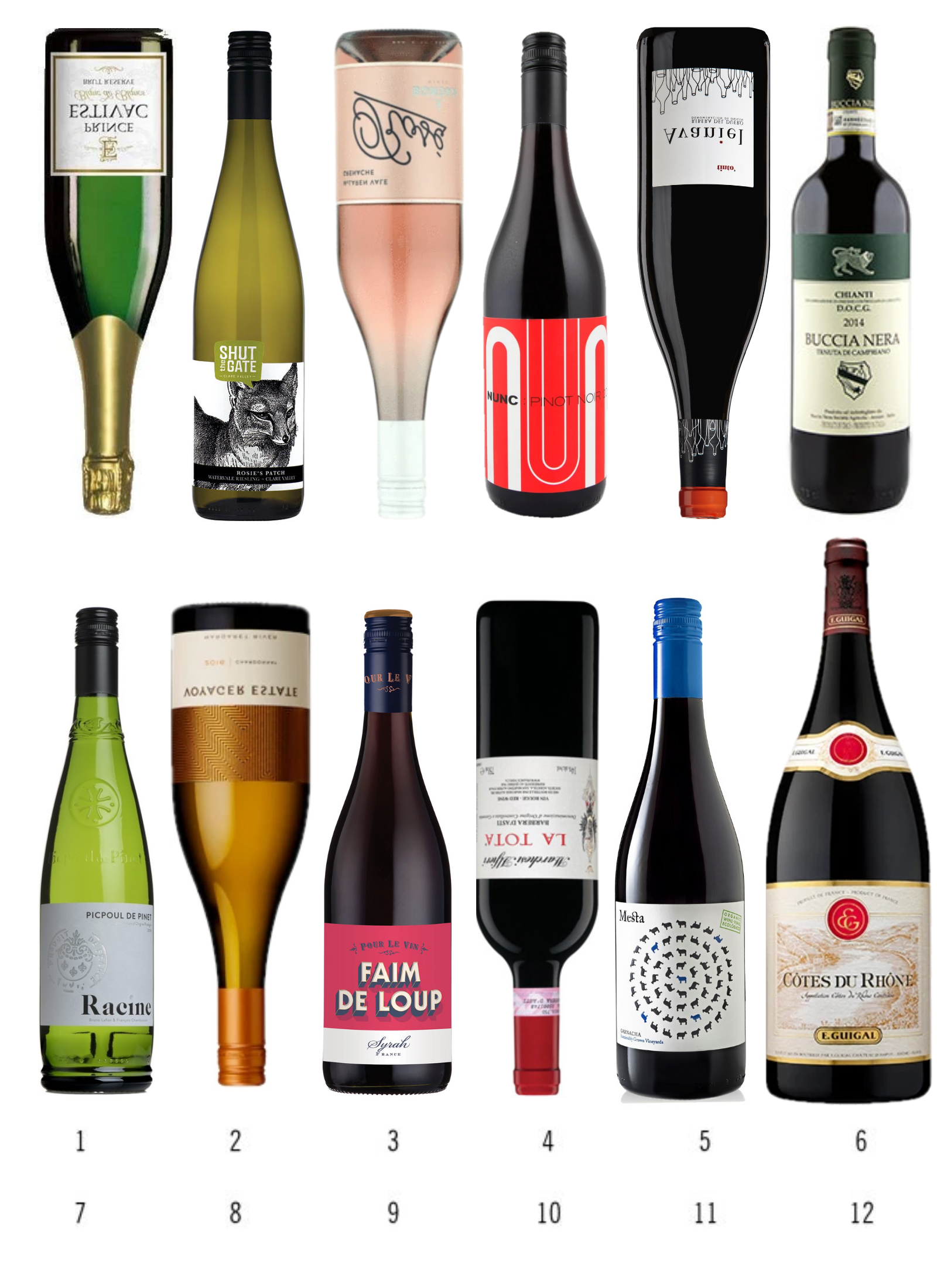 Show all profiles
12 Cracking bottles for
$

339
inc GST
Medium Pack (6 Bottles) - Christmas Drinking Mixed Dozen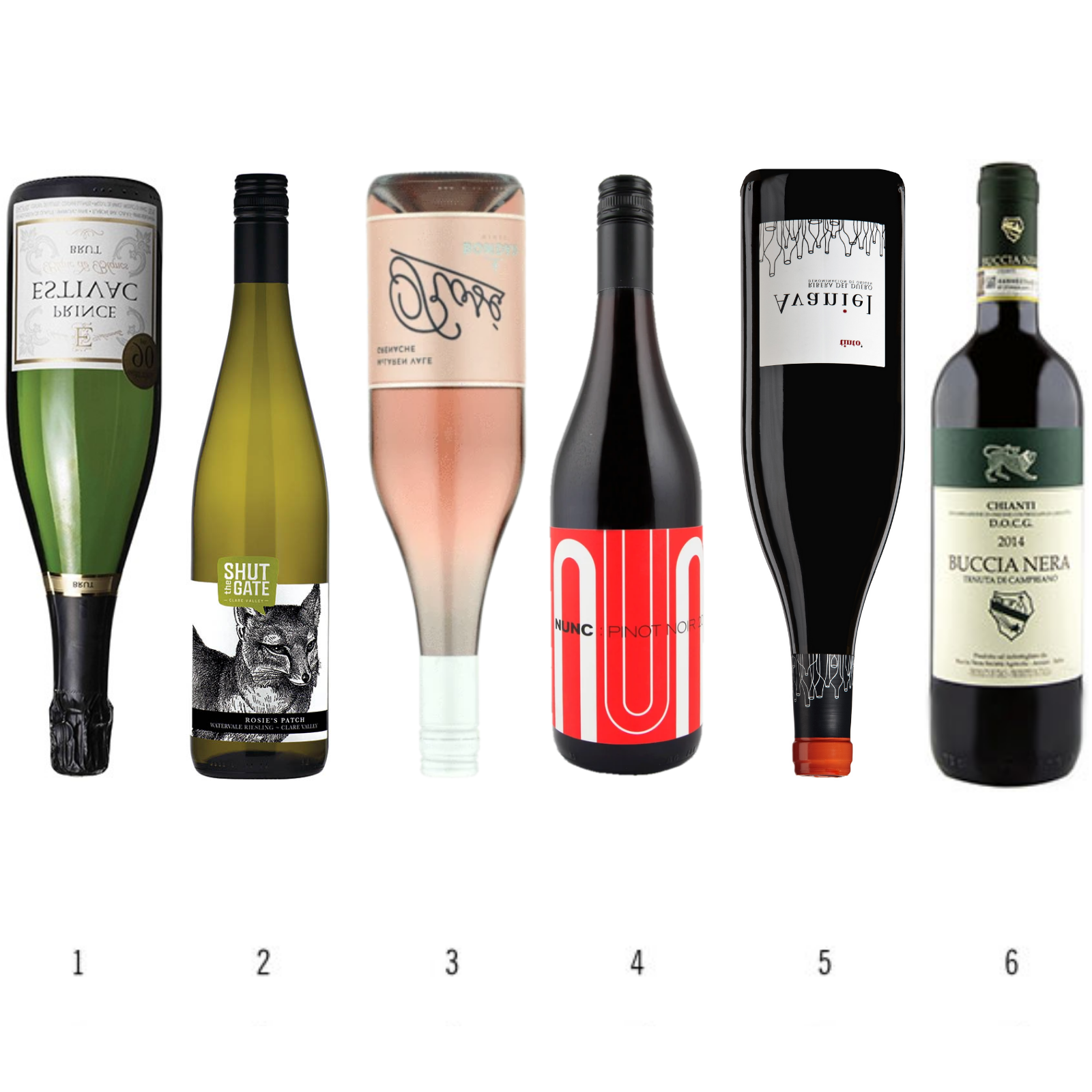 1. Prince Estivac Blanc de Blanc NV

Alsace White Blend

While there is no doubt Alsace is well known for its aromatic white varietals it is probably not as well known as the steward of great sparkling. Well, this little drop will change your mind. This doesn't try to be Champagne and it's all the better for it. The aim is to produce a clean, fun and delicious sparkling that nods to its home in Alsace but overdelivers in quality, and it has that in spades!

This is sensational value, made from Pinot Blanc and Riesling in a traditional method. Nashi pear and green apple with hints of lime. Cumquat, apple, zesty citrus lead in the mouth to a long finish. Excellent little wine and you would be just as happy popping this for a toast as you would cracking it at a BBQ to get the party started.

2. Shut The Gate Rosie's Patch Riesling 2019

Single Vineyard Watervale

Sourced from the Castine family vineyard located towards the south of Watervale, a block generally a little warmer and producing riper, tropical fruit characters in riesling. Free-run juice only. Shut your eyes and listen to Watervale speaking through this delightful, young riesling: citrus blossom, honeysuckle with that lime cordial intensity. The palate is slightly riper and warmer but it's brought to heel nicely with lemony Watervale acidity. JENI PORT, James Halliday

3. Bondar Rose 2020

Grenache Rose, Mclaren Vale

A blend of 95% Grenache and 5% Cinsault, sourced from four sites with a range of soil types--from the white sands of Blewitt Springs to the cracking, black clays of Whites Valley. Fruit from all four blocks was hand-picked, then crushed and left to sit on skins for varying amounts of time (three, six and twelve hours).

Two parcels of Grenache were fermented cooler, while a smaller parcel of the Estate Grenache and Cinsault were fermented warmer in old oak, providing a 'funky' blending fraction that brings food-friendly grip and texture. A pale, fleshy and deliciously red fruited rosé from a producer that can do no wrong. Perfect balance and some lovely complexity make this an exceptional buy.

This is one of our favourite Rose's the last couple of years and Bondar seem to just produce hit after hit. This is so dangerously drinkable - you have been warned! PWS
4. Nunc Pinot Noir 2019

Yarra Valley

Dave Mac formerly of Oyster bay and now Ar Fion heads up this awesome little collaboration that morphs from year to year. Working with growers from four Yarra Valley vineyards, stretching across the region's myriad of microclimates and soils this a classic looking Yarra Pinot.

Yarra Station, Willowlake, Beenak and Primavera Vineyards, Yarra Valley

The fruit from the Yarra Station and Willowlake vineyards was fermented as whole bunches for approximately 14 days. After a few light stomps they were pressed together to stay on light lees in old barrels. The remaining fruit (from Beenak and Primavera) was completely de-stemmed and fermented for approx 22 days with a light pump over every day. They were then pressed to a mix of old and two-year-old French barriques.

After two months, malolactic fermentation was complete and the wines were racked together as a blend then returned to barrel for a further few months to help vineyard characters to integrate with each other and make a complete wine. At the end of August the wine was racked lightly again to tank, prior to a light sulphur addition in preparation for bottling.
No fining or filtration.

The result is a savoury, amaro- and tea leaf-inflected Pinot, with lifted notes of red cherry, raspberry and rose leading to a palate that is juicy and bright, medium-bodied, and with a deliciously smoky-spicy close.

5. Avaniel Tinto Ribera del Duero 2018

100% Tempranillo

Bodegas Monteabellón is located in the heart of the Ribera del Duero with 52 hectares of vineyards (mainly Tempranillo) around the township of Nava de Roa. Isaac Fernandez, nephew of the legendary Vega Sicilia ex- winemaker, Marino Garcia, is the inspiration behind this relatively new venture.

The production at the winery is a thoroughly modern affair that draws on nearly 140 hectares of vineyards. The plots are spread over the Ribera, Rioja and Rueda with the mainstay wines those from their excellent Ribera holdings.

Avaniel made from grapes from one or the freshest, young plots called "Los Miles". It is also one of the youngest vineyard with vines within 6 and 10 years. Violet and damson with wild forest fruits and plum pudding, spice cake character. There is an intriguing mountain herbs and salt blushed fruit thing going on too. The palate is mid-weight verging on full of plump, cool blue fruits and black raspberry cool-aid. The palate leads into a salty, dry finish. The tannins are fine grained and feel off in the distance providing gentle structure to the easy drinking fruit.

6. Buccia Nera Chianti 2018

Traditional Blend

Buccianera winery is located on the hills beyond the city of Arezzo, in the heart of Tuscany. The winery counts about 60 hectares of vineyards and olive yards extended from 200 mt to 500 mt on the sea level. The name "BUCCIANERA" means "BLACK SKIN" and comes from the Mancini family's nickname. The grandfathers were called 'Buccianera' for the dark colour of their skin - they were so tanned from working in the vineyards under the sun every day.

The owners Anastasia, Alessia and Roberta manage Buccianera with great passion for nature and respect for the land. The vineyards are organic from 2002.

The wine is 80% Sangiovese with a blend of approx. 20% other traditional varieties. Winemaking is all in steel tank with about 3 months of oak ageing just to give the wine a little kiss of oak. The result is a pure and floral Chianti with a lovely mineral note meshed with red berry fruits. The mid-weight palate carries with a crush of dark fruit and red cherry with fine, grainy tannins and a minerally fresh lick of acidity at the finish that leaves your mouth ready for the next sip. Delicious Chianti with a modern framework that doesn't stray into the oaky and heavy trap. Well done.
Show all profiles
6 Cracking bottles for
$

154
inc GST