Alternative Australia
The positive evolution of the Australian wine scene over the past decade has been nothing short of astonishing. That pace of change has been most evident in our growing interest on varietals outside the mainstay of the French 'classics' our industry was built on.
The interest from consumers, growers and winemakers for these so-called 'alternative varietals' are contributing to an ever thrilling and vibrant wine scene that is being expressed through a uniquely Australian lens.
With global warming an ever-increasing concern Mediterranean varietals from countries like Spain, Italy and Portugal have been leading the way with their ability to retain wonderful freshness and energy from an increasingly warming climate.
Other winemakers are taking their hands to even more obscure varieties from Austria, Greece and even Georgia to name just a few. With over 100 different varieties grown over 65 wine regions the not-so-quiet evolution is adding to an already exciting scene.
We are proving once again that we are a world-class drinking destination driven by innovation, a thirst for excellence along with a sense of fun.
Medium Pack (6 Bottles) - Alternative Australia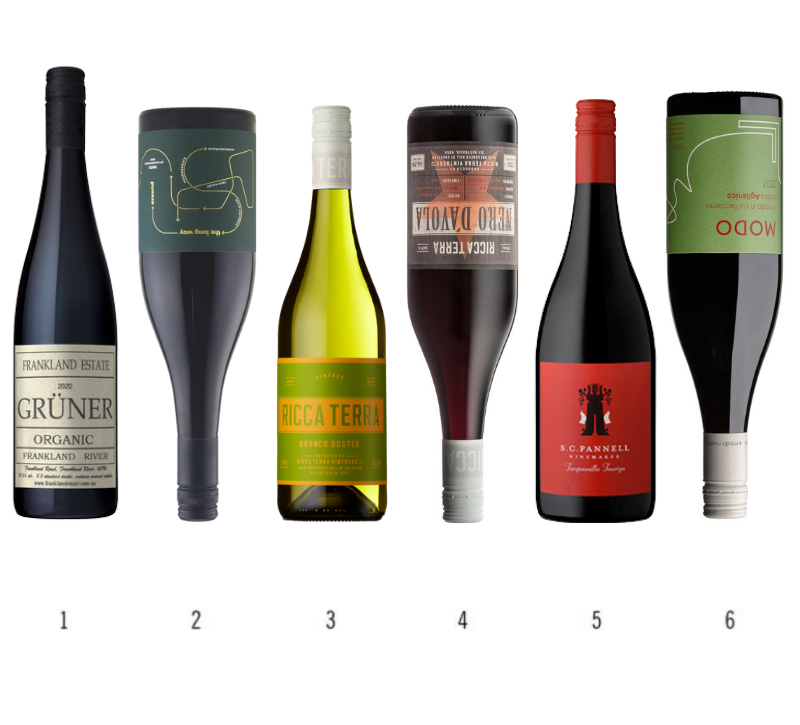 1. Frankland Estate Gruner Veltliner 2020

A rare treat!

There's not a lot of Grüner Veltliner planted in Australia, but where this native Austrian white varietal is small in numbers, it's big in flavour impact! This is the first release for the organic 2020 Frankland Estate Grüner Veltliner wtih only a barrel produced.

A cool and delicate take of its Austrian counterpart that is super-refreshing with the typical white pepper and stonefruit palate that you would come to expect from this varietal. This looks really authentic and we have seen most of the handful of producers who make this varietal and this definitely one of the better.

2. Ravensworth The Long Way Around Chenin Blanc 2020

100% Margaret River Chenin

With production decimated in Canberra due to recent fires Ravensworh were keen to still drop a 2020 vintage so enlisted the help of its friends and confidants to co-ordinate a selection of wines under the Long Way Around moniker.

This is Chenin sourced from Margaret River's McHenry Hohnen winemaker Jacopo Dalli Cani and is such a belter of a wine. PWS

Another wine of 'heightened' colour from skin contact, sure we could remove that by adding shit it but this is what wine looks like in raw form, if it worries you drink from vitrified clay cups as we do all skin-contact wines now, it's a little caveman but that's needed sometimes. The aromatics lean toward autumn orchard fruits: quince, apple, pear, a waft of windfallen nectarine and peach. There's also citrus, peel and pith plus a fragrant yet-esoteric white flower note if you care to look deep into your wine, imagination and vinious vocabulary. Sure there's texture there but it is in flux with the super high acid of this variety that can make rieslings seem a little flabby. It's so good, we shall meet again. RAVENSWORTH

3. Ricca Terra Bronco Buster White

Vermentino, Fiano, Greco and Arinto - WHAT!?

This crazy and delicious blend from vermentino, fiano, greco and arinto grapes is produced by Ashley Ratcliff and family from the Ricca Terra farms of Riverland, South Australia.

There is a lovely chalky and green melon that greets you on the nose that flows into succulent nashi pear and green tree fruits. It's a bit like trying to catch wind with you hand as all the spicy fruit and mineral laden falvours and aromas rush around your senses. Crisp and dry with lip-smacking fruit and refreshing acidity that makes you want for more. So good!!
4. Ricca Terra Nero D'avola 2020

100% Nero from the Riverland

There is a bit of this around now, Nero we mean, but it's so often just juiced up with a lot of whole bunch and pushed into the juby fruity camp. While this definitely has some of those elements thankfully this keeps a little more true-to-form of its Italian cousins. Pastille black fruits and a crème de cassis thing going on with a lovely cassia bark hit. There is a little more broody and wildness to this then most on the market and we like it! No oak and nice and pure fruit.

5. SC Pannell Tempranillo Touriga 2017

Touriga & Tempranillo Blend

When you get to read Jane's review below we thought we couldn't have it said it better. If you don't know this wine from SC Pannell, well, consider yourself informed. An infectious and sumptuous red blend from Spain and Portugal's most important varietals. A match made in heaven.

Sometimes, partnerships just work and sync immediately. Like these two Iberian varieties. Comfortable together, complementing the qualities of each to make an harmonious drink. Dark fruits, red and black licorice, roasted coffee beans, wood char and charcuterie, sarsaparilla and nutmeg. Medium-bodied, energetic and damn delicious. JANE FAULKNER. JamesHalliday.com

6. Il Modo Aglianico 2018

Il Modo Wines are the culmination of twenty years of experimentation by Ray Nadeson & Maree Collis at their well-established Lethbridge winery in the Geelong wine region.

Il Modo meaning the way, is a focused exploration of 'alternative' Mediterranean varietals arguably more suited to the warm climates of Heathcote and Mildura in which they are mostly grown. It's a deliberate and considered exploration of the future direction and potential of the Australian wine industry.

Smokey blue and black fruits that swirl and fall in on each other while dark roasted cocoa and coffee roll around in the background. This is rich without being heavy and has nice poise.

"Made using grapes from the Chalmers family vineyard in Mildura, fermented and matured in a Tuscan terracotta amphora, this has gorgeous juicy purple fruit leading on to a sweep of deliciously prickly tannins across the tongue. Makes you crave char-grilled lamb skewers." Max Allen, The Australian Financial Review
Show all profiles
6 Cracking bottles for
$

178
inc GST